Elephant tales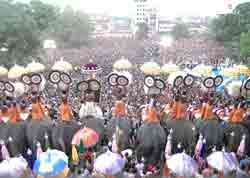 India
May 18, 2009 2:47am CST
Elephants feature very significantly in a variety of temple festivals in kerala or 'God's own country'as it is known popularly. Kerala is the southernmost state of India and a popular tourist destination at that. One of the most famous temple festivals of Kerala is the Trissur Pooram, the major attraction of which is the colourful display of parasols atop magnificently decorated elephants. Given is a picture of the Trissur Pooram.
1 response

• United States
18 May 09
That is a pretty cool picture! I have never been to India, but I think that would be an awesome sight to see. My nephew would love to see it as well. He loves all kinds of animals! He loves going to the zoo. One of his favorite animals to see there is the elephants. I am sure he would love too see the elephants with all of the beautiful colors. I would just be afraid I would lose him with all of those people there!

• India
19 May 09
yes. the temple festivals of kerala are indeed a sight to behold! i will try and put up more pictures of bedecked elephants so that you may pass it on to your nephew. what you say is true. it is actually scary to be in the midst of such a big crowd. but there are people who come from other parts of the world specifically to witness it each year.