Which Antivirus ?

India
May 19, 2009 11:35am CST
Ok, I never thought that I'd have to ask this question. But now it seems that I have no other choice... I've a core 2 duo, 2 gb RAM and a 160gb hard disk. I've McAfee. It works GREAT, I have no complaints about it regarding security. But it makes my pc hell lotta slow. I'm sick of seeing my pc taking literally 5 mins just to open my "My computer" after boot. I'm an experimenter. I know my PC very well and I can guarantee that my PC DOES NOT have any virus. I've tried Norton but it too has the same problem. So don't tell me Norton/Symantec. I've an archive with loads of viruses in it (Ya i know it...). I don't want to get that archive deleted. I've tried some AVs that scan in archives and delete the whole archive to delete that single infection. I DON'T WANT THAT

. So please advice. Thank you...
7 responses

• India
19 May 09
I have used both the anti virus. The problem with norton is that it is best in detection but in most of the cases it could not heal or delete the virus. Again it makes the PC very very slow. McAfee has the same problem. I have 1.5Ghz processor and only 265MB ram. Now I use kaspersky and the performance is very good. The best thing is that it is really capable of healing or deleting threats. Again it does not make my computer very slow. It has a very good protection system. You can try kaspersky, I hope you will like it.

• India
19 May 09
Ya I've heard a lot about Kaspersky. And it keeps the pc fast too. But I've that archive problem that I mentioned above... Please tell me if you have any info on whether Kaspersky deletes whole archive if an infection is found inside it ??? Thank you, waiting for your reply...

• India
20 May 09
If you are asking that whether it deletes the directory in which it finds the virus then the answer is no. It does not deletes the entire directory. It only deletes the infected file. I could not get what you meant by archive. If you could clarify that then I will try to give you correct answer.

• India
20 May 09
I've an iso file. It is an image of Black XP. It has keygens in it which contains loads of viruses. But it has many useful files in it which I wanna keep. An iso file is the archive I'm talking about. You can compare it with a rar or zip file. Thank you for showing your interest.

• India
19 May 09
You should use quick heal . I'm using it and it does not slow down the computer. I had earlier used McAfee but it created lots of problems on my computer. I have in fact tried lots of anti-virus softwares but I find quick heal better than other anti-virus so far.

• India
19 May 09
Yes my friend, I've heard about quick heal. But as I said about the archive, I don't wanna run any risks. Do you know whether it deletes the whole archive if a virus is found inside it ??? Thank you for your response, awaiting a reply...


• Philippines
19 May 09
Try AVG antivirus. It works great for me. Doesn't slow down my PC and it detects some viruses which other AV's cannot detect. Just give it a try and tell me what you think. Cheers!

• India
19 May 09
Well thanks for your prompt response. But the archive I talked about above is a 7.5gb archive and I really don't wanna take any risk. So "trying" is just not a good idea for me. If you know for sure that AVG doesn't delete archives if an infection is found inside them, then please tell me... Thank you...

•
19 May 09
You can try bitdefender they are apparently very good especially if you want a fast computer as it takes up very memory. Oh BTW if your very serious about keeping you archive then you may want to consider backing it up in multiple places.

• India
20 May 09
First of all thanks a lot for your concern buddy. I tried bitdefender before and the problem I faced was that it used to shut down sometimes abruptly. One more thing is that it does not remove viruses from the "System Volume Information". Ya and I can't take multiple back ups of that file. Its 7.5GBs. Thank you for your reply, if you have any other suggestions, then I'm all ears...

• India
29 May 09
Hey thanks a lot for your concern buddy, but the file I'm talkin about is 7.6 gb and my monthly usage limit is 1.0gb (which I've already crossed. LOL)

. But yeah, its a very good option. Thanks a lot once again...

• India
24 May 09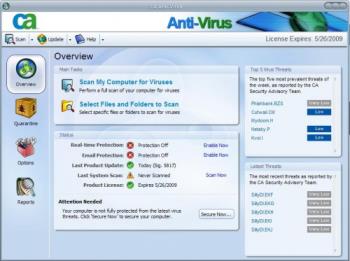 hiii dear friend...happy to meet you here..I am using the CA antivirus..It is a excellent and one of the best antivirus i had ever seen..It makes my system excellent and also it speeds up my computer..I had used the many other antiviruses they made my system slower and also many viruses effected my computer when i am using other antiviruses like MCAFEE,AVG,AVAST,ANTIVIR....But CA is the excellent antivirus and it will dlelete the any kind of viruses..and also i will not slow down the computer and also scanning will be faster compare to the other...happy mylotting dear friend..have a nice day...keep smiling..happy earning..




• India
29 May 09
Hey thanks a lot for your response. I'll surely check out CA...

• India
20 May 09
try quickheal anti virus its amzaing marshall www.eshopholic.com

• India
29 May 09
Hey yeah, I've heard bout quick heal. Will try that... Thank you for your response...


• India
20 May 09
Thank you for your response but you did not say anything about my archive problem. I don't wanna run any risks...