Can you tell me about your significant other and what you love about them.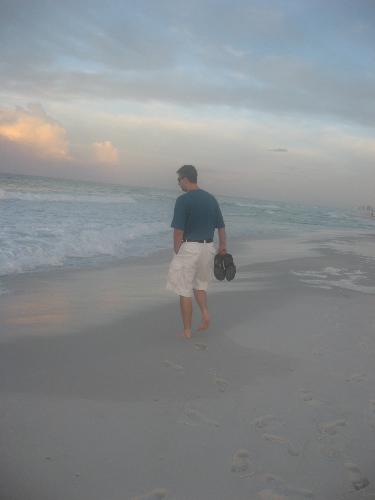 United States
May 20, 2009 5:34pm CST
Lately I have been giving a lot of thought to my husband and the things I love about him, the awesome things he does for me and the great way he takes care of me. so for me, my husband is my hero, he works very hard to take care of us, he shows his love in all that he does. He works a full time job and when he gets off work he takes over with the kids, he does their bed time routine every night, he says this is his special time with them. Which to me is very sweet. He gives me breaks, lets me go out with my friends, take long hot baths and well he spoils me rotten. he has a great smile, great legs and is a great guy. he provides for his family, is loving, caring and plays with my nieces and nephews as well. My husband is my dream come true. what do you love about your significant other, wife, girlfriend, boyfriend, regardless of the "type" of relationship I want to here all of them. Tell me about the love of your life and what makes them so special.
9 responses

• United States
21 May 09
my husband is great. of course he has faults like everyone but i love him for him being him. he thinks about me and the kids before doing anything. he helps around the house when he knows i need him to. he says i love you every day. he kisses me good bye every time he leaves the house even if it is just to go to the store. i love him cause he is still a big kid at heart. i love him cause he loves me. i love him cause he is a good no not good a great father. i love him cause i love him.

• Canada
21 May 09
If I had one complaint about my hubby it would be something that you do get! I would love it if my hubby would give me a kiss good bye anytime he leaves the house! Also sadly I can't remember the last time he told me he loved me, and that's sad! I really think he and I need to work on that, thanks for making me aware of this problem I didn't realize I had until now!

• United States
22 May 09
PT. that is sad. I wish that I could tell you something to do to change those things about him. You could start by telling him that you love him every time you think about it and maybe that would work. Easymoney it seems you have a very good husband as well, and it is great that you love him so much

• United States
31 May 09
My significant other is the most amazing guy i've met. He makes so happy. He's funny, friendly, nice, respectfull, handsome, lovable, caring, patient...sometimes haha. But I love him with all my heart. If I could, i'd marry him this instant. There is not a day that I want to just go to bed with him and cuddle the whole night in his arms. He makes me feel so safe and around him it feels like everything is ok.

• Canada
21 May 09
Hi meandmy3! These are the things I love about my hubby ... he works his butt off to provide for this family, when I found out I was pregnant again he told me he really wanted me to quit my job because he knew it was stressing me out big time and my Doc suggested I quit as well, he is an excellent father, he gives me breaks or lets me take a long hot bubble bath because he realizes staying home with Angelina can be a bit much some days even when he's had a rough day at work, he's loving, caring, the most unselfish person I have met, and he always can't wait to get home to see us! And for the record we are just as happy to have him home as he is to be home

. I love his eyes, his sexy smile, and his hot body too


• United States
22 May 09
you posted on mine saying you didnt relize about the kiss and the i love you. if you think about though he says i love you just not in words. i have been married for 13 years now and i have come to realize that the words are just that words it is actions though that show the love more then anything. him giving you a break after working all day says i love you more then just the words or a kiss. dont get me wrong those things are great but i love it when he does things for me in actions. the little things are what counts the most. i am sure back in school a guy said i love you and gave you a kiss but never really put you before him on a daily basis. yea i would work on the other 2 things too but just keep in mind he does say it in his way. you are lucky to have a person that cares for you so much that he puts you first so many cant say that. we are the lucky ones. with little ones it is so hard to keep a romance and to find the time and energy.

• Canada
22 May 09
Thanks Em and MAM3! I know that he loves me because the actions are there like you said, but it would be nice if once in a while I got something like flowers out of the blue with an I Love You card, or the kisses and the I love you's before he heads out the door! BUT the main thing is that I know he loves me and hopefully we can work on it!


• United States
23 May 09
My boyfriend is the love of my life, and here's why: he's special. He's different from any other guys that I've met. He's three years older, and he's not totally into just getting into my pants and leaving me to be all depressed and heartbroken. He's different. My parents like him as a person, but not as a potential future for me. My dad thinks he's some kind of bum, and he's just going to try to get in my pants, but really, he's better than that. He's really sweet. I'm not all that good with science, and recently, he's been tutoring me almost every day. He comes over and helps out with the experiments, because I'm home-schooled. We're in the kind of a relationship that nobody really knows we're dating, but we're happy with it like that. It's nice being with someone and not having people attacking the relationship with lies and trying to break us apart. I believe that he really loves me at the moment. Maybe we'll last forever, and maybe we won't. We're not relying on staying together forever as the only option for our futures, but we both agree that it would be nice. It's not one of those creepy relationships where we're already planning our wedding, naming our kids, and looking for houses. After all, we're just young adults. We're both involved in the theater, and this has helped me see that, if we WOULD end up getting married and having kids, he'd be a great dad. Recently, he was in a play with almost 100 kids, and he was great with them. They all LOVED him, because he payed attention to all of them, and not just together. He'd spend practically one-on-one time with almost all of them through the month we worked on the play. It was so cute!

• China
21 May 09
you are lucky lady,I am single now,I always dream a man who can take care of me,wish you happy erveryday.

• Australia
21 May 09
My wife is a perfectionist and moderately impatient. At first I did not like her character however throughout the years she was gradually relieving herself from her normal character. We were having fights many times in the past, largely were my faults that she could not accept. I have told her I am no way near her although I am trying really hard overcoming my bad attitudes and to lessen mistakes. I've also told her that she cannot be so strict and let me to improve myself. Three years on we have improved many areas and we are now happier than ever. I've loved her everyday and really thank for her painstaking efforts to change my bad character and I couldn't think she done these things because she loved me so much. Only things she want in return is to show her that I am really loving her and listen to her advices. Each of us are unique and so special, we are accepting each other and understand each of our weaknesses. From the day of our marriage we have promised each other to have good families. Fights between us made us becoming stronger each time, sometimes we fight for better outcome otherwise situations could have been even worse if one of us did not understand. Well to cut the story short we are now in the right track in making our family happy as much as possible. Our happiness would someday bring us kids :)

• United States
22 May 09
Sounds like the two of you know what makes your marriage work and are doing the right things for one another. It is so great that you can learn from the fights and move on from them, so many couples seem to have the same fight over and over and never really resolve it.

• United States
21 May 09
The thing that I love most about my boyfriend is his silly sense of humor, we laugh a lot together which i had never had with anyone else. I can be my totally weird self with him and he finds it endearing and amusing.Yes he can be a real jerk sometimes but there are also times when he is so sweet and tender, it just makes me love him even more

• China
21 May 09
the part of the husband which you are saying is same as me ,we are so luck that we meet my hubby in our life,there are so much sweet detail which he have done to me,whatever bother i have met daytime,once i saw him soft smile to me,every troublesome is go with wind.the photo with three children is yours,what a happyliness family!!

• Philippines
20 May 09
I'd say I don't have a perfect wife, but what I had is a blessing from God. She was a full-time housewife and I got a job. I've always love to hug my wife and son every time I get back home. I also had an online business which I also dedicate to them, for I love to see our family having more time to be together with loveones and friends. Our family is a Christian and we believe having more time with our family and having more time with our religious practices will always bind us all to be strong on trials along the way.

• United States
20 May 09
What a great response, your wife would be proud to read this, and you should let her. We are also a Christian family and we put Christ first in our life in all that we do. We are dedicated to our family and to things that involve family. Good for you for loving your wife so much