Google Online Promo 2009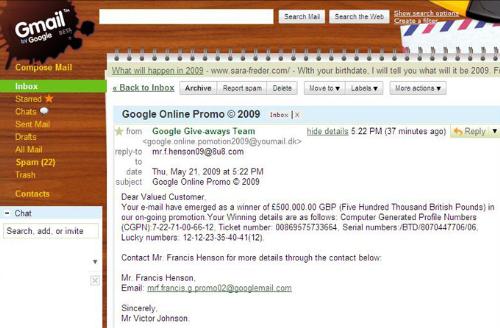 Singapore
May 21, 2009 5:08am CST
I had just received an e-mail in my gmail inbox with the above title. The contents of the e-mail says that your email had emerged as a winner of 500,000.00 GBP.... Well, I do know that the above e-mail is a scam as I don't ever think that Google will be so good to give anyone that much prize money in the first place. Besides, there are some other hints that this is a scam (1 of them is the e-mail used to send out this e-mail). However, I was wondering how many of you had received this e-mail, and your response to this e-mail at the time of receipt. Do share...

2 responses

• Philippines
22 May 09
Another one of those scam emails huh? I dont notice those anymore. I mean whenever I get them on my spam folder, I just select all and delete them all without so much as a backward glance. I do however look at the senders of those emails in case there are those emails that Im expecting that unfortunately got its way into the spam folder. I think sending those emails are just a waste of time. Then again I guess there are still people who get sucked in with these kinds of scams that dont let those scammers be tired of sending one more.




• Indonesia
8 Jun 09
I never receive emails like that. But i'm very worried if the emails come to a person who still new on the internet and just about creating email account just a week ago maybe.

• Singapore
8 Jun 09
It's good that you have yet to receive such e-mails. Yes, this is also what I'm worried about when I post this topic. The fraud e-mails are sometimes getting more and more "clever", and innocent people are being deceived into thinking that they are really lucky... It's really very sad to hear of such cases...