What's the difference among hair spa, cellophane, rebond and relax?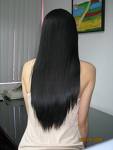 Philippines
May 29, 2009 8:52pm CST
Haha this confuses me.. Can some beauty experts here help? Or can you just share your experience? Thanks:)
2 responses

• Philippines
11 Oct 09
I'm no expert, but here's what I know: 1. cellophane, it's like coloring your hair but only temporarily, it will last for a couple of months.. it can also help dry hair 2. hair spa, I'm not really sure, but I have done this one, I think it made my dry hair not so dry anymore. LOL. though I think it's stronger than hot oil, but less than rebond or relax. 3. relax - this is like straightening right? I think this is less stronger than rebond 4. rebond - this cures dry and unhealthy hair, makes it straighter.. and this is I think the most expensive of all. LOL. though I have not tried this one, cause I would rather have my hair curled than straightened. hehehe.

• Philippines
29 Aug 09
I am no expert, but here is my take on each: Hair spa: it's not permanent, just a treatment to make hair softer and soothe damaged hair. like a real spa, it's like therapy to the stressed out hair LOL (i've tried it and didn't see any difference) Cellophane: to my knowledge this one closes split ends. it also seals in the treatment for relaxed or rebonded hair to make it last longer. it usually comes with hair coloring. (i've never tried it) Rebond: Straightens hair, but it's not like straightening, which uses acid. this is different and they says the damage is lesser. after the treatment is applied to the hair and then rinsed (not sure how many times repeated), the hair is dried and then ironed. Relax: Uses same treatment as rebonding, but without the ironing. Tried it, my hair got straighter but I was plagued by split ends and falling hair afterwards. I hope I got them right!