Did you know that June is Adopt a Cat Month?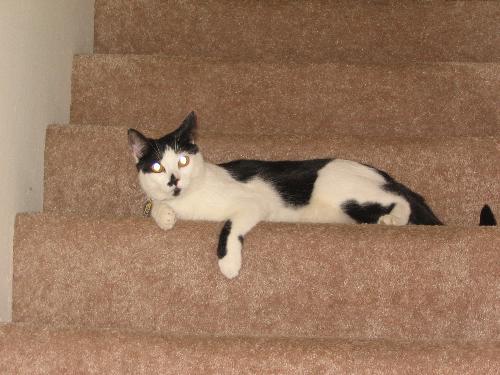 United States
June 3, 2009 7:40pm CST
Have you recently adopted a cat? Share your stories and cute pictures with us. I have had my two furbabies for a few years. Neither of them were June babies. Ashley my Avatar was adopted in October. She is a sedate and lovely lady. Carlye I got in the early spring, March or April and what a little tomboy she is. Both of them can be trouble, but they are the light of my life and keep me sane. Tell me about your furbabies.
10 responses

• United States
4 Jun 09
about 3 years ago was my last one-i took in my uncle's cat when he went terminal,it was his last wish.he made #5 at the time. since then,i still have my last set of kittens (now 9)and the three of them get along pretty well.there were some gripes at first,but they've worked it out. as much as i'd like to adopt one more,these three are a unit,and i don't think it'd be a good idea right now...having said that,should a waif show up as occasionally happens,i'm sure i'd take it in



• United States
4 Jun 09
we have jealousy issues with the two boys here sometimes. if one gets petted,the other comes over and tries to shove the first cat off the lap.

you have to pet one in each hand. kinda like the baby brother who wants all the attention LOL

• United States
4 Jun 09
well, we rescued 4 cats, a mom and 3 kittens, between Sat and Monday. We can't keep them, they are too feral to change. Well, I know there are some who have the time and energy to "flip" them, but that someone isn't me. And I'm not sure about Momma, she hisses at us if we look at her too long, even did that outside before we caught her.

• Australia
4 Jun 09
no i don't know actually... and to be honest with you, i prefer dogs compare to cats... so i never have a cat in my whole life... i plan to have one anyway if my hubby allowed me... i want to have a ragdoll... they are so cute and adorable... also, they are not too hard to maintain and they love to be cuddled... hopefully i can get one soon... take care and have a nice day...

• India
4 Jun 09
hi aurone, thats really nice to know.i really love cats they are so cute and cudly,i have one cat.he's really cute and is brown in color.he can be really naughty at times but i really love him no matter what.and i am looking forward to take care of the stray cats and raising them.

• United States
4 Jun 09
Aurone...if I adopt another cat, I will soon be called the "Cat Lady". I adopted one a few years ago, a beautiful rustic coolored Cat, who came to me, looking for a home. We try to keeps as a house cat, and limit his outdoor play. WHen I am working, he stays in the house, as well as in the late evenings. In addition to him, my 80 yr old neighbor was feeding all the cats in the neighborhood, but in the evening when she wwould go to bed at 8:00, the poor cats would meow endlessly, because they're hungry. Even in the cold, they would sit for hours on her porch. Now...they have started to come to my house, and it's really upsetting me. I feel bad for all these cats, but I cannot afford to feed them. They sit there for hours at a time, just waiting for me to come out. One is a grey, sweet looking, cat, one is a darling calico, and one is black and white scrawny thing who must have been roaming for years... Why don't those people who have pets, keep them inside at night, so we don't have to feel for them in the bitter cold.

• United States
4 Jun 09
Who knows? My furbabies stay inside all the time. Too many bad things out there that could get them. When my folks had outdoor cats, we ended up feeding the neighborhood cats too. Some people only feed their pets a certain amount of food, but it isn't enough for the poor darlings so they go looking for other sources. We always kept out food all the time for our cats. I think you should only restrict the diet of pets if they start to get too heavy (like that 31 pound cat that was taken to the humane society) otherwise I think most cats know when they are hungry and when they are not.

• United States
4 Jun 09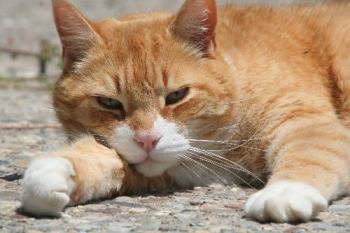 We took in a stray in the beginning of summer about 9 years ago (it could have been June). We didn't adopt him from a shelter but I guess we cut out the middle man.

He's gotten cranky in his old age and has started smacking my dog as she tries to sniff him. No one gets hurt so it's pretty funny.

• United States
4 Jun 09
As you know I have my two furbabies--Pyewacket my black kitty and my avatar pic and Kissy a tiger-striped cat---alas I wouldn't mind adopting another cat bit my landlord set the limit to only two---Pyewacket is a "June" cat though as he was born June 17, 2001---mmmmm...gonna have to buy him something special for that day!

• United States
4 Jun 09
I would love to adopt a cat but I don't think my dog would like that very well. She isn't really mean to the cats which is surprising for a dog but she is such a baby and I am sure if we brought in any other sort of animal she would be jealous or upset and begin to cry. I do hope that a lot of cat do get adopted and find good homes this month though!


• Philippines
5 Jun 09

awww that's so nice..hmmmm. maybe i should tell my friend about it so that he may stroll around and look for cats to adopt.

now that you mentioned hmmm maybe i should look around if there's any kittie to adopt here. well, there no shelters in my country so might as well look for one.