Do you prefer to Blow Dry or Air Dry

United States
June 6, 2009 9:34am CST
Usually I blow dry my hair because I like the look of straight hair. But now with summer almost here the thought of turning the blow dryer is such a turn off! After a few weeks of no blowing drying my hair is usually softer but oh soooo curly! So what do you prefer?
10 responses

• United States
6 Jun 09
i prefer blow drying!! it makes my hair soft and gives me nice waves... then i dont have to straighten it or do much with it unless i want it super straight or curly. but my hair is at the perfect length. so i can blow dry and get the cute waves... lol thats long enough now...

• United States
7 Jun 09
hey there britt. . . funny but i blow dry my hair so that i can make it straight . and I blow dry and i blow dry and then i blow dry some more. . and if that isnt enough i then take a hot iron to get that finished look .. a lot of work but when the weather cooperates it is the only way I feel pretty! Its amazing how hair can make a person .. if you know what I mean. . .like have you ever gotten a bad haircut and nothing looks right. . lord have mercy .. right before my high school graduation pictures were taken .. for some stupid reason I went and had my hair cut. . i swear I got the Bozo the clown cut.. and I still shutter when I see that pic. . . it is no wonder I hate to go and have it cut. . actuallly I am thinking of moving to italy just so I can go to mydianait's hair dresser :)

• United States
7 Jun 09
i know what you mean!!! it sucks! i got a hair cut once and i cried it was so bad i got in my car and cried all the way home i had to go to another dresser and TRY to get it fixed! yeah i do the same thing with the blow dryer i only use the straightener for the finishing shine...SOMETIMES NOW but i do understand tho! is that hairdresser in italy good? cuz ill go with you!!!

• United States
7 Jun 09
mydianait brags about this one . .so yes I think a trip to Italy should be on our agenda! Lets wait till your sisters neck heals and then she can come with us . .and an added attraction is my daughter is spending next semester over there as well .. just think of all the people we can visit. . .diana's hairdresser will be our added bonus!



• United States
6 Jun 09
Depends on the weather outside. If it is cold, and snowing, I usually blow dry my hair. As the spring and summer time come around though, I air dry it. I don't mind the curls, makes my hair look fuller. :)

• United States
6 Jun 09
I used to, but I started using John Frida Friz Eaze before I blow dry it and it always seemed to work great for me.

• United States
6 Jun 09
tried it . . not much help for my frizz when it rains! ha sometimes I wonder why do I even bother to fight it and should really just go with the natural look but what can I say I LOVE straight hair!happy day to you jersey! hoping you are having weather like new york today . it is perfect! even for my hair;)

• Canada
9 Jun 09
Strictly low maintenance here. I don't remember the last time I had my hair blow dried. Granted I'm a guy. I used to actually own a blow drying. My wife uses one regularly. She likes her hair all dry before she ever comes out of the bathroom. My wife gets to help my daughter regularly. That when the hair dryer gets a real work out. My daughter has beautiful long hair.

• United States
9 Jun 09
Lucky guy that you are . . even luckier to have 2 beautiful women in your life and even a son to keep things balanced! I knew I had that feeeling you were one terrific dad. . you keep showing it through your posting here! Keep on keeping on.... and Happy Lotting to you


• China
9 Jun 09
I prefer air dry. If it so happens that I have a late shower in the evening just before going to bed, I always blow dry so that I can go to sleep soon. To air dry is more natural and it is better for the protection of the hair.

• United States
7 Jun 09
I would rather not have to use the blow dryer but if I let my hair air dry it is naturally wavy and I prefer a more straight hair look. If I plan to stay home I usually do not use the blow dryer to lessen the damage to my hair. I agree with you that when you blow dry it makes your hair softer as well.

• Canada
7 Jun 09
Blow drying yields better results but I never have time to blow dry my hair so I end up letting it dry by air!

• Malaysia
7 Jun 09
i usually air dry my hair, let it dry naturally. unless i'm in a super duper rush to go out then only i'll use the hair dryer.

• United States
6 Jun 09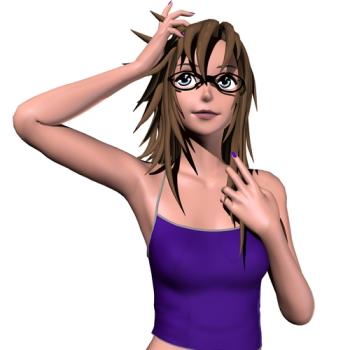 I almost never blow dry my hair. I like to let it do it's own thing. I think I might be too lazy to consider doing that much maintenance on it.

• United States
6 Jun 09
sly another lucky one I see! I think the more I keep reading these posts the more I am convincing myself it is time to let go of the blow dryer and hot iron . .well maybe just for the summer. . come the fall and the hair weather here in the northeast is perfect for the way I like to do my hair .. even if it takes more time than I want to give it. The final outcome is worth it! happy lotting to you

• United States
6 Jun 09
me too zack but the time it takes I could be doing so many other things. In winter I dont mind cause what else is there to do plus the weather agrees with that style, but come the summer and the humidity! It may look good for a minute but then the dampness in the air just ruins it! thanks for sharing . . happy lotting!