A crazy question about "The Sims".

United States
June 17, 2009 4:54pm CST
Okay, this is going to sound like a very kooky question, but do any of you get hungry or very sleepy when you're playing "The Sims"? This happens to me every time I play and I watch them eating or going to bed. lol Who knew that the power of suggestion could be so strong?

4 responses

• United States
17 Jun 09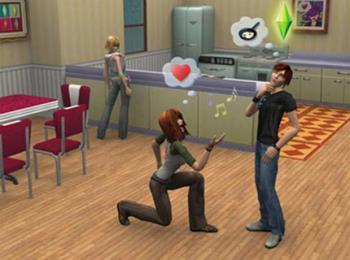 It has been a while since I have played the Sims. I know that The Sims 3 is now out and soon hope to get a copy of it. Now speaking about your topic I would say so yes that people would probably get hungry playing it. But sleepy? Try playing the Sims 3 and try sleeping. From what I heard it has become a very addicting game than any of the previous games. I would say before when I first played The Sims I have stayed up more than 24 hours. I mean think of it, so much creativity, making characters, making homes, careers, parties, the dating them and much more. However I never liked playing other different sources of the Sims such as the Urban Sims or the other Sims that came out on say the PSP and PS2. So I give a good thumbs up for The Sims 1, 2 and 3.

• United States
18 Jun 09
I've only got Sims 1, but I do plan on getting the others the minute I get enough money. It's amazing how much time goes by when you're playing; one night I started at about 10, and the next thing I knew, it was 1 in the morning. I never want to go to sleep when I'm playing, especially if I have some really good Sim fights going on. LOL!


• Indonesia
24 Sep 09
when they go to work, somehow I want to go to work, but I'm still a student :D wish I could get money as easy as sims :) I often use cheat to keep their mood etc maximum because I don't like to see them sleeping.. sometimes I killed or make my sims depressed when I'm bored. I wish I could kill the children.. hahahaha.. kinda addictive, but it's sooooooooooooooooo boring when u have to do the same activities over n over n over again..

• United States
13 Aug 09
Wow, that's a funny story. But luckily, it doesn't happen to me.

• United States
15 Aug 09
I don't think I have ever found myself getting sleepy from playing this unless it is getting late and I need to get some sleep. I do find myself getting Hungry a lot of times while playing this as I seem to loose track of time, and usually it gets time to think about eating something, or time for a snack maybe as well. But to eat as often as the Sims are always eating would make someone Fat in real life for sure.