P4P king smart move? It is!

Philippines
June 19, 2009 2:34am CST
In the boxing news today, people are saying that manny is afraid of mosely. But if you will compare the two best boxers, Shane Mosely is too much for Paquiao. How can you say its a match knowing mosely has the height, reach, experience, size advantages? Its fare for paquiao to choose Cotto insted because its a real matchup. They have almost the same height, reach, except for size and speed. This match is the right choice for team paquiao. They should check if Paquiao can overcome the strength of Cotto before getting to fight Mosely sometime in the future. Paquiao is not afraid...he is just using his head.
1 response

• Philippines
19 Jun 09
Yes, it is a smart move for the Pound for Pound King. This will silence his critics for saying that he's fighting washed up fighter. Well this time, he will be fighting a fresh Miguel Cotto. He is a true welterweight too so this would really silence doubters including Gayweather who has been ducking Cotto and Mosley. Mosley is pretty dangerous i agree. I think he's just to big but i know Manny can beat him still but Cotto is an even match.

• Philippines
20 Jun 09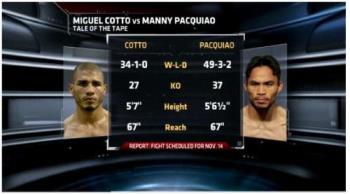 thanks modstar! yeah Paquaio can take all of them but still, its a step-by-step process. Cotto first, Marquez, Gaywather then Mosely. After that,its time to retire. Cotto is a good test of paquiao in terms of testing his toughness at weltherweight.