No Indian in the ICC T20 squad.hahahaha.ICC rules or sucks?

India
June 23, 2009 5:55am CST
hi friends.yesterday ICC released its 11 member T 20 squad and its as follows: 1.younis khan (c) 2.chris gayle 3.jaques kallis 4.tilakarathne dilshan 5.AB Devilliers 6.Kamran akmal 7.shahid afridi 8.umar gul 9.wayne parnel 10.dwayne bravo 11.ajantha mendis. funny all the members of this squad were from the teams which reached semis what message ICC is sending? that it will only include players who belongs to team reaching semis? is kamran akmal better than sangakara in batting and keeping? ajantha mendis better than joan botha who is considered the best T20 spinner? i am surprised they didnt include Dhoni and made him the captain instead of Younis khan. what about yuvi?in this T20 world cup,he performed better than those top 5 batsmen except he ended up in a team which didnt make it to the semis and lost all its super 8 matches.
9 responses

• India
24 Jun 09
Last world cup when India won ,they named Dhoni as the captain and included many indians in the squad. This time as pakistan won they included 4pakistan players and named Younis khan as the captain. This shows that ICC includes those in the teams that reach semis. So they consider real talents of the players.

• India
24 Jun 09
sry i did a mistake in the last line . its "So they dont consider the real talents of the players.

• India
24 Jun 09
I think it is not a ICC team. its a Pakistan team. I think selector do a childish job. Younis Khan captain... So funny and most terrible comedy. Where is Ross taylor, Yuvraj Singh, Yousuf Pathan??? Big question is there... Most appropriate captain now I think Sangakara... Because Dhoni not in well form.. I think this team played well against Bangladesh or Ireland... Because other International team having lots of T20 specialist player and they easily can turn down all the foolish strategy of Younis Khan easily... Totally funny job....

• India
24 Jun 09
What the hell ICC is doing in selecting the team for ICC T20 squad? This very not favor to Indian Players.

• India
24 Jun 09
ICC always want to suppress India, I don't know why? This is another example for it.How can they omit player like Yuvi? It is right that they did not choose Dhoni, but Yuvi is an asset to any T20 team.

• India
23 Jun 09
its very interesting and of course its a good decision .because even one player have played well.bowlers are some what better than the batsmen.if we see the ICC T20 squad i.e,the first seven players were excellently played in T20 world cup 2009.but kamran akmal is not so good as sangakkara.but yuvi played well.

• India
23 Jun 09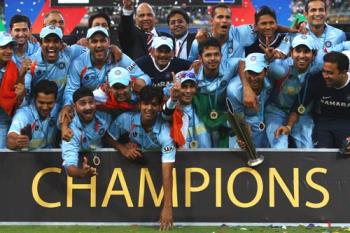 Yes this is very poor Decission by the ICC. India is the 2007 champs but They are not take any player from our Team this is really Sad News For all the Indian fans. And yuvi is in Great Form but they didn't taken in the 11's it's really funny. And i think the Commite head is not know about the Cricket...

• India
23 Jun 09
Hi to all......... First of all, ICC chose the best 11 from this year's world cup....... That is why no Indian was there in ICC's team...... I think ICC should have included Yuvraj Singh...... I think in this year's T20 world cup, Yuvraj Singh played better than A B deVilliers...... About the captaincy, ICC chose the right person i.e., Younis Khan....... Actually, M S Dhoni's poor captaincy was responsible for India's poor performance......... Ajantha Mendis played much better than Johan Botha........ It is a really difficult to choose the best wicket keeper....... Both Kamran Akmal and Kumara Sangakkara played well........ HAVE A NICE DAY!!!!!!!!!!! HAPPY MYLOTTING!!!!!!!!!!!


• India
23 Jun 09
Regarding the captaincy let it be..Because Younus Khan is going to retire ..Let it be a consolation for him... No Indians in the team...Hmmm...thats quite awful...whenever a team is picked after a tournament it consists of players who have performed well in that tournament...so no worries...may be if they had picked the team during the last world cup then we would have got many Indians in that list..let us hope for the best.. happy mylotting