Just Got Paid by JoyClick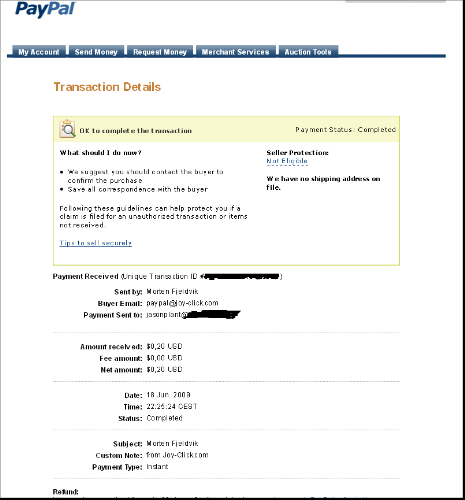 France
June 23, 2009 1:27pm CST
I have just got paid the other Day from the PTC JoyClick, this is now the third Payment from them in the last month. (the other payment proofs can be seen on my site) Now I now that this is not a great amount, but so far off Joyclick I have earnt 26 Cents in less than a month and that is not counting another payment request which I should receive in the next day or two. Now if all PTC would be reliable and pay so quickly then the trust might return to this sector. If one company can do it, why can't they all ? If anyone wants to take a look at Joy Click, the banner is on my profile, they normally have enough ads to allow you to cashout within a day.
2 responses

• India
23 Jun 09
Hi jason1308,congratulations on receiving your third payment from the site.I hope you continue to earn even more money from this site.With your words,I think the site has a very low minimum payout,is it true?Anyway,best of luck.Take care.Happy mylotting.


• India
25 Jun 09
Hi jason1308,it is hard to believe to see such a less payout amount in a site and now as the site has paid you,I have to believe that such sites with honest administrators do exist.Anyway,best of luck to you.I hope you earn a lot of money from the site.

• United States
23 Jun 09
Congrats! I'm still waiting on my first payment from them. It's taking awhile, but I know they'll get to me sooner or later. I know the admin is taking a bit of time to get payments out.

• France
23 Jun 09
Yes the time span of the payments does seem to be varying from each payment that I have received. Sometimes it is hours and then days but I wouldn't be too worried they have now paid me 3 times so far, and also have one in pending as well. Happy MyLotting