Do you think torn and worn off jeans are in fashion?

India
June 27, 2009 4:20am CST
Jeans is what we like, both me and my wife, like to wear regualr jeans. Its in the market place do I see lots of guys and gals wearing tattered and worn off jeans which are ultimately torn and tell a torry tale of affair, Is this in fashion, I dont consider it to be like that!Do you?
5 responses

•
27 Jun 09
yep its fashion, i love wearing my baggy jeans with flipflops because the jeans touch the floor and drag and naturally get that torn and worn look. There are jeans that are purposely made to look like that, so yeah they are fashionable whether or not they are the fashion jeans at this moment in time i dont know

• United States
1 Jul 09
I personally love all kinds of jeans. The ones that are a little more worn in and have holes in them are really more confortable. I do not wear them to work or on a date, but I will definiately wear them to a ball game, to a show with friends or to just run errands in. They are great because they are already broken in. Feels like you have had them for 5 years.

• India
28 Jun 09
Anyday jeans will never loose its trend...all it cal happen is that it can take many forms...once it was the bootcut which ruled the jeans arena...not its the worn out jeans ...whatever comes next it will rule for a period... but considering me i dont like worn out jeans...they can be used on all occations..all i need is a versatile jeans that be used anywhere... happy mylotting

• India
27 Jun 09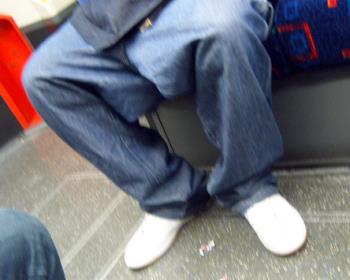 Well, that depends on the preference of the person wearing them. I, personally, like jeans that are a little old such that the colour is a little faded. New jeans look "BAD". And a few small rips here and there don't hurt either.

• Philippines
27 Jun 09
Hi there!

For me jeans never goes out of fashion. Jeans or denim cloths is considered the sturdiest clothing ever created and can withstand time from its wear and tear. That's why jeans are commonly used by hard laborers because of it's strong material. Jeans have evolved through time. There are now faded jeans so our old jeans can still be used though they actually have faded from long use. Torn jeans was also manufactured and they became a hit for teenagers. One of my friend even intentionally torn the edges of her jeans to be in fashion hehe. But if you'd ask me, I don't wear torn jeans but faded jeans, yes I still do wear them. I'm not comfortable with torn jeans and I'm not so much into fashion. But I do find that it looks good on others but on me, nah,

I don't think so. Ciao!