I'm going to start potty training my daughter...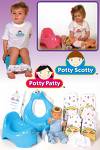 United States
November 12, 2006 6:07pm CST
does anyone have any advice or suggestions? I would appreciate anything anyone has to say. Thanks so much:)
5 responses

• United States
13 Nov 06

I'm in the middle of trying to potty train my daughter too. She's not taking to it very well, but she loves wearing "big girl panties" lol. I have a sheet of smiley stickers that say hooray, good job, and excellent, that she gets to choose from when she goes on the potty. She has her own potty, but the top comes off so you can set it right on the toilet seat. Since she was able to walk I've been taking her into the bathroom with me and that has helped. It gets frustrating and I'm sure you are sick of having to change diapers or wet clothes, but stick with it, she'll get it. I ask my daughter about every hour and a half if she has to go. Even if she says no I tell her "well, let's go make sure" and lead her into the bathroom. More often than not, she does go. Sometimes she just needs a little encouragement. Good luck!!

• United States
13 Nov 06
thank you so much for this great and helpful advice I really appreciate it. I will use all the tips you have given me. thank you again!! Have a great night. Thanks for your response :)

• United States
13 Nov 06
are you going to get some of those little kandoo things for her? i often wonder if those would actually help teach kids along with that toilet paper with the paw prints on it to know how much to use and stuff..but most certainly just put her potty beside of yours and when you go ask if she has to go too..and as she gradually learns start telling her now you are going to take turns when needs to go and she can go first ..make little games out of it..does she already wear the pull ups? (my nephew is doing potty training right now not fun for my sister in law but hes so funny) lol Good luck

• United States
13 Nov 06
I was thinking of getting some of those Kandoo things for her they look like they may be helpful. I have also seen that toilet paper I think its made my cottenell or something. I have a friend who uses it with her kids and she says its wonderful so maybe I will try that. I have bought her a potty of her own which she seems to like and want to use but who knows with kids that could change...lol. Ok thanks for your helpful advice I appreciate it. have a great night :)

• United States
13 Nov 06
Go easy with her. Don't yell or punish her. Reward her. Wait until she is atleast 2 to 4.

• United States
13 Nov 06
She will be 2 in January, she has just recently wanted to start sitting on the potty. I figured some advice from people on here would be a big help !! thanks for your advice have a great day!!!

• United States
13 Nov 06
yep, just be cool about it, don't berate or punish her for doing what she's done since she was born. just let it happen naturally, in her own time, no matter how much you want to stop the diaper duty :)

• United States
13 Nov 06
Ok great thanks for your advice and have a great day!!! :)

• United States
13 Nov 06
The best advice I can give is to make it fun and don't put pressure on her. She will have accidents. If you make a big deal about the accidents it will make the whole thing a lot harder. Also, don't worry if it takes her longer than a friends or relatives child. Each child is different. Ask her about every hour if she has to go. Pay attention to her actions. Some kids will start to hold themselves or do little "dances" when they need to go. These are good signs that it's time to ask her. Since she's a girl, if you are comfortable, you could even have her go in the bathroom with you. You could go and then tell her it's her turn to try.

• United States
13 Nov 06
This is great advice thank you so much. I have read that you shouldn't make a big deal about accident,which I wouldn't anyways. I won't worry if she isn't doing the same as a friend or relatives child. I will try everything you have said here thanks again and have a great night :)