KareKare w/ bagoong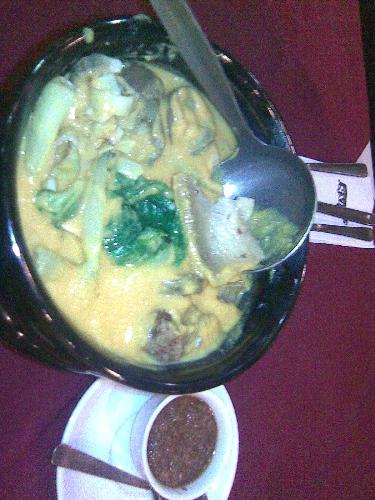 Philippines
July 7, 2009 10:52am CST
KareKare is a Filipino dish.It is pork or meat in peanut sauce.It is good with shrimp paste we call locally as bagoong.It is best eaten w/ rice.I love the karekare in Max Restaurant.i usually order it there
3 responses

• United States
9 Jul 09
Yum yum! There's a max restaurant around here somewhere. I think it's in Glendale, California. I've been there with my mom and my sisters - I didn't drive so I don't quite remember where it is. I might take my bf (he's not filipino -he's thai,cambodian,french mix) because he loves chicken. Don't they have good chicken? Anyways, I wanted to comment about the Kare-Kare thing. I've tried making it (with minor changes, of course.). It's more Americanized I guess. And it's never as good as how my mom makes it. =/ My bf enjoys it though.

• United States
9 Jul 09
Hahahaha - I don't agree. I'm not a very good cook though. That's why it's not so good when I cook it. =/

• Philippines
14 Jul 09
Kare kare with bagoong is one my favorite filipino dish, especially if it is beef not pork. I have also tried the kare kare in max's restaurant and it is really good. But what i really like best is my sister's cooking. I love to eat it when i pour the peanut sauce into my rice and mix it with bagoong and then with the pechay (greens) half cooked and the beef is so tender.

• Philippines
8 Jul 09
I love that food, it feels i am full if i eat, i love the taste of it, it makes me happy when i ate that, i eat it in max restaurant and in other restaurant.