Who is Enya

Indonesia
July 7, 2009 11:51pm CST
Enya was born at 17 Mei 1961. She has a maiden name Eithne Ni Bhraonain (Enya Brenann. Enya is the best irish solo muscician who have ever been. Enya has 3 comprised person, they are: 1. Enya own 2. Nicky Ryan 3. Roma Ryan Eithne, working with Nicky and his wife Roma. They have been made an instrumental record title " an Ghaoth on Ghrian" (the solar wind) and "Miss Clare remembers" which have released in 1984 in a compilation album Touch Travel. Eithne has written with Enya after several song was written for the film the Frog Prince in 1984. He also contracted to provide music for soundtrack of television documentray the celt in 1986. The first album which has relesae is "Enya" 1987 but only slightly attention at the time. Enya has a great succes in there career in 1988 with the album watermark, wich containig the hit song of "Orinoco Flow" (sail Away). "Orinoco Flow" occupy the top of song in the UK, and the album sold eight milion copies. In 1991 Enya was spent the next hit album: Shepherd moons, which sold reaching the germany award for "best New Age Album"
3 responses


• Philippines
9 Sep 09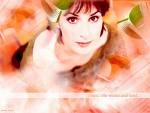 I agree, almost all her videos are magical. The rotoscoping done in Caribbean Blue and Orinoco Flow was fantastic as well as the special effects in the MTV of Only Time, Anywhere Is, Only If, The Celts and On My Way Home.

• Philippines
9 Sep 09
I'm also a big fan of Enya and have a DVD of her some of her MTVs. My favorite songs are Book of Days and Storms in Africa. My son loves Caribbean Blue. But yeah, it was Orinoco Flow which made me notice her in the first place way back in the late '80s. It's also worth mentioning that she has created some of the best theme songs for movies such as the one for Lord of the Rings entitled May It Be.