Gran Torino - keeping it in the family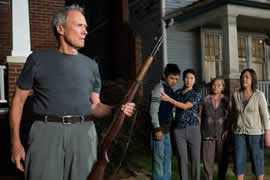 July 9, 2009 6:23am CST
I was just watching Clint Eastwoods Gran Torino again and I didn't realise that not only does it star Clint but also his son Scott, and his eldest son Kyle also wrote the music score for the movie. Definitely a case of keeping it in the family. I can think of a few movies which feature 2 members of the same family in different roles but not many which feature more. What other movies can you think of where members of one family have featured in lots of different roles, say 3 roles or more roles?
4 responses

• United States
21 Nov 09
Your avatar caught my eye, so I had to come over to one of your discussions and respond. I always liked Dean Martin. My favorites were the Dean Martin and Jerry Lewis movies. OK, sorry, I didn't mean to change the subject. I have seen Charlie and Martin Sheen play in the movie Wall Street. I know that is only two, but I couldn't think of one that had more than that in it. And I could barely come up with that one. LOL By the way, I also liked the quote at the top of your profile by Steve Martin. That was great. Have a great weekend!

• United States
22 Oct 09
I can't think of any movies that features family members right off hand but did want to comment on your post because I also didn't know that Clint's two sons helped and appeared in this movie. We just watched Gran Torino a few weeks ago and thought that it was a great movie and Clint still looks great =)

• Philippines
6 Oct 09
Aside from the amazing acting in the movie, I loved the plot. The ending was such a letdown when I first saw it, until I realized why. After the r*pe and beating of Sue, I felt as infuriated as both Walt and Toad were. I was with Toad when he wanted to get immediate revenge. But that's what made me realize the genius of the plot. It was realistic. Walt was dying. He was old. Yeah, I wanted to see him kill every single one of the gang members, but what he did was so much more. He not only saved the family from further abuse, he taught Toad his final lesson. He stopped him from going down a path that once you start on, you can't stop. Clint rocks!!!

• Czech Republic
9 Jul 09
That's interesting. I didn't know about it I can't think of any movie with a lot of family members right now...