Nibiru: The 2012 Doomsday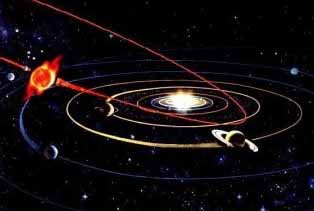 Philippines
July 15, 2009 7:02pm CST
At exactly 11:11pm of Dec. 23, 2012, an incoming cosmic change will happen in our solar system. Widespread over the web, this news had created fear and dwindling of hope for mankind. Based on the Mayan history, the Quatraints proposed by Nostradamus, astronomical pseudo-sciences and the Revelations in the Bible, the imaginary or ancient planet will pass again our solar system after 36000years and will create a drastic change and anticipation of the so called doomsday in the year 2012. Nibiru, the Planet X may cause a global catastrophe on our planet as it was believed that it destroyed the planet Tiamat which was believed to exist between Mars and Jupiter. According to what i've read on these sites featuring Nibiru, our planet's fate will have the same on Tiamat. Try to read more about Nibiru and it will give you goosebumps. Do you believe that this the day where ALL that existed in Earth will come to an end in 2012?
5 responses


• Pakistan
19 Aug 09
dude, nostradamus was a fake, hes a liar, and he started all this fuss about 2012 by the way, there is no reason we should belive in him, he isnt God, and as far as science is concerned,, it doesnt know anything, religion and science are opposites, try listening to religion, you sill get what you were looking for whereas science will only predict what will happen and will remain false, God Forbid, if the world will end on the time afore mentioned, but if it will then it will be God's decision, not nostradamus's, good day

• Philippines
17 Aug 09

I used to believe that crap too, when i was watching that video from Marshall masters and other old people regarding the existence of Nibiru.but some users had upload videos of their own knowing that the image is fake. i don't really know what to believe anymore. but for me, i don't think it's the end of us yet, if other animals are capable of evolving then so are we..

. if we came from monkeys and apes, we can surely reach another stage of evolution if we wanted to..

definitely this 2012 is just another bogus.

• Philippines
16 Jul 09
For me i still believe that nobody knows what will happen on the next days.Only God or our creator has the power to do everything he wants to do in the whole earthhe is the only all knowing God and nobody else (its is my opinion and i respect the opinion of others).God knows everything in this whole planet or earth so i don't believe in those rumors.

• Australia
16 Jul 09
hello, i dont think this planet x is going to physically hit us but that the size of planet x is the concern & the re-action our planet will have with something so large so close thats not normally there. wait till the end of 2011, if there is nothing in the sky then its all a hoax.