Our meeting with my MyLot friend and her husband...

United States
July 16, 2009 8:03am CST
We had a wonderful time. My husband and I got to Edmonton late Friday night. It was actually 2am Saturday. We met up with Sparks and her husband for breakfast as their room was not ready for them yet. When sparks and I saw each other she came quickly around to me before I got off of the walk and down the steps. We hugged for a long time, then let go and looked at each other and hugged again for another long time. It was like seeing a long lost friend that I had not seen for years. Even though we had never actually met, we knew each other right away. We went for a nice long leisurely breakfast and we talked a lot. The guys left us and went out to smoke as sparks and I sat there and talked more. We then checked to see if their room was ready and it was. We all went upstairs to get ready for the day. They were having an Art Walk that went down both sides of the street for about 4 blocks. We looked at all of the things on display as there were many artist that had their wares on display. Sparks and I both bought something for each other. The guys just tagged along with us holding the things we bought. Once we lost sparks husband and he found us asking that we come see a young lady that is a quadraplegic and she paints beautiful pictures with her mouth. The lady there with her asked that sparks and her husband watch over Penny's shoulder as she painted so their photographer could get some publicity shots. Me, well of course I took this oportunity to get some shots as well. I looked over at my husband and he is just smiling like crazy and nodding his head up and down meaning that these are going to be good shots. Which they were. When we finished up with the art walk we went for late lunch which was cut short because thy were clearing out the restaurant for a wedding party to come in. Then we got up for dinner and went to a great Irish Pub. Where everyone of us had an autentic irish meal. The food was fantastic. The decor was fabulous. They even had chairs made from tree stumps or parts of the tree trunks. They were beautiful and added a certain charm to the place. We all went upstairs or a short break and possibly a nap. We then went to the wine and cheese tasting they had in the hotel. That was really great, they had several different wines and so many cheeses. I think this was a wonderful time for us as we sat there and talked so much about things that we had done in the past. We laughed and had a great time. I had some hot tea, that I love so much and wouldn't you know that I made a mess while trying to pour the tea from the little tea pot into my cup, lol. Sparks jumped up, always quick on her feet and got some napkins to wipe up my mess. After leaving the wine tasting we went strolling down the steet as sparks really was excited to show me a book store that was one of her favorites. We came to this quaint little place that you'd think was small but it has an upstairs too. What was really great for me was to discover that sparks and I have the same taste in books and what to read. We had read many of the same books. We talked about books and authors. We both bought books. We had a great time. This was another time that we lost her husband. It's a good thing we had cell phones, lol. She called him and he was back at the hotel and she told him to wait there for us at his offer to come and get us. We were wanting to have a little something to drink perhaps coffe or something but discoveed that the restaurant was closing and that it was about 10pm. Wow, our day had passed so quickly. We steped over to the "smoking area" and then we all went up stairs for the night planning to meet up in the morning for breakfast and then all pack up to leave shortly after breakfast as we all had long drives to get back home. All in all it was a wonderful time had by us and I'm sure by sparks and her husband as well. Now to make this a discussion, Have you met up with any of your friends on My Lot? Or are you planning to in the near future? I will post pictures as soon as I get them loaded.
8 responses

• United States
16 Jul 09
That sounds awesome! I can't wait to see pics! :) It's great meeting someone you know and yet never met before.. who knew two strangers/friends could have so much fun... eh? Glad ya had a great time and ever happier that you shared this story!

• United States
16 Jul 09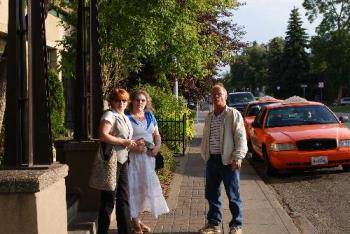 We did have a great time. Here is a picture for you. Thank you for responding.

• United States
16 Jul 09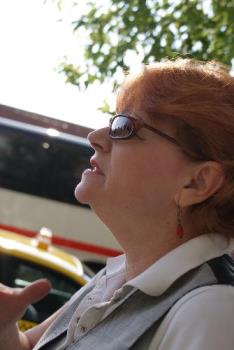 Thank you, and now you have allowed me to post another one, lol. I do want to mention that the soccer team was there and they won their game, which means that they are going to the finals! You will see their bus, a bit of it anyway. I was standing next to sparks and just snapping pictures without looking. to get her. LOL

• United States
16 Jul 09
Hi moondancer, What a wonderful trip you all had..It is wonderful that you have met such wonderful friend..It is good that the husbands got along too.. For myself I have no plans to make any trips.. Many blessings to you and your hubby.. Have a great day..

• United States
16 Jul 09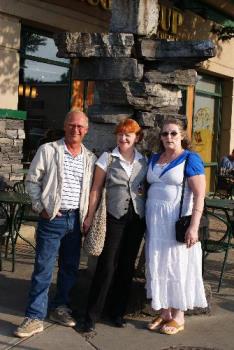 Thank you mc, we did have a nice time. We did not stay so busy that it was hard on sparks or me, because we both have health issues. We sat when we needed to and going to our rooms and resting was at a really good time to. It surprises me jut how well it all fell into place. It was just one day and breakfast the next but it seemed like longer that that,in a good way. I'm going to add another picture from the trip, as we are only allowed to post 1 picture per post. The stones are put together to make a person, the indians did this in old days so that you knew where you were or what is there in the area, each one is different in their prospective areas...somethig like that. Sparks told us and I'm sure I have part of it right, lol.

• United States
16 Jul 09
Great picture..Sparks hubby was closer this time,Lol..Looked like he belonged with you all...Wish your hubby had been in the picture... love to you and hubby..

• United States
16 Jul 09
me too but he took some of the pictures. He is in the ones that sparks has.


• Regina, Saskatchewan
16 Jul 09
WARNING! WARNING! Sparks looks horrible in pictures, so if you want to bask in her REAL beauty, you have to meet her in person!...............just sayin' ROFL From now on Moonbeam, YOU'RE doing the reporting of our meetings. You take more and better pics and you tell the story better! Hugs and much love!

• United States
16 Jul 09
Both of you look great in the picture.. You also did a good job reporting the meeting.. Blessings and love to you and your Moonbeam...

• United States
16 Jul 09
NO WAY!!! I thought you told the story better! Really I just tried to say things that you didn't, but that was so hard as you covered it so well. And yes, the pictures made us look way bigger than we are. This is why I hate having pictures taken. And I am always so pastie white, like a well bleached bed sheet and I don't think I am that white. Sometimes I am when I'm real sick. But you can't even tell that I have makeup on in theses pictures, ROTFL. I have in all 170 pictures from the whole trip with you all and coming back to Fort McMurray.

• Regina, Saskatchewan
16 Jul 09
Thanks mc........ Moonbeam, you did very well. Never underestimate yourself. And your pictures are great. You must check out the comments I'm leaving on them though for a giggle. LOL


• United States
16 Jul 09
Hey moondancer! I am so happy first to have you as one of my new friends! And, then to hear what a wonderful time you had meeting our mutual friend Sparks and her hubby! It sounds like you all had such an incredible time together! There are so many of us that wished we could have been there too sharing in the fun! It definitely sounds like you had the perfect weekend visit! And Sparks said the same things too! You both seemed to echo each others sentiments exactly! And I know that you four will definitely be seeing each other again really soon! I hope to get to know you better too moondancer! I still haven't met any mylotter friends, but I am hoping to meet some real soon! And Sparks promised when she comes to NY she will stop by to see me! I can hardly wait! And I can't wait to see your pictures! She had so many wonderful things to say about her "moonbeam"!

• United States
17 Jul 09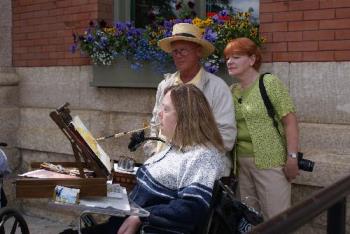 You have such an excitment and exuberance that it's hard to think that we had anything other than a really good time, lol. Which we did have a wonderful time. It just ended too quickly. We will get together again as sparks and her hubby want to come to our house later this year or when they get the house sold and get into their new one. I wish we were not so far from one another then we could meet up, but then who knows we may be in that area some time with my husbands work. I have posted pictures with everyones responses. I will add one to yours as well. Thank you so much for responding to my post.

•
16 Jul 09
Hi Moondancer, What a lovely meeting you both had, I love the you wrote that, its like reading a novel and felt like I was there right with you and sparky, it must be so lovely to meet up with mylot friends because you are friends with them for a long over the net and then to actually meet them face to face is like nothing on earth and its amazing how you get on with each other, that what you call real friends, I have met up with two of mylotters, I met our Mr Fish about a year ago and it was brilliant,, then a few weeks ago we met up with Ellie and ofcause p1kef1sh again, they only spent one day with us as they had to go back, during that time we had a long chat and had a few drinks, then had a meal, all too soon they had to leave and that is the saddest part of meeting up, its a shame we all live so far apart but we can hope one day we'll meet up with you and sparky, wouldn't that be a blast.. love and hugs. Tamara

• United States
16 Jul 09
Thank you so much for the compliment. Coming from you I feel like you would tell me what you really think. Thank you. It means a lot to me that my little story is accepted well. It's easy to write true things though. Although being amoung some really good writers, well lets just say I'm a baby when it comes to writing for others to read. lol I'd love it if we could all meet up. I know what you mean about the time ending way too soon. Even though we live far apart we have the lot to keep us together.

• China
17 Jul 09
that's really interesting you met another couple in the real life who you know on mylot. but for me i think that's hard to be ture because here is China and less members on mylot still. even we can find some but we are spread in different provinces or cities and that would hard to reach each other on the real life. good luck for your friendship.

• United States
17 Jul 09
I understand about being in China and trying to meet up with anyone. It would be nice though if more people there would come to MyLot and be there and open to meeting people in person that they chose to be their friends on the site. Thank you so much for your response.

• United States
17 Jul 09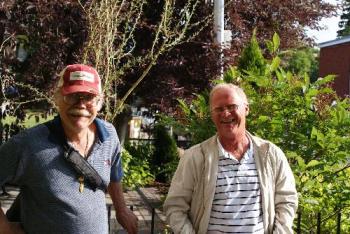 I wanted to put a picture in here of the guys. They are gentlemen and yes, they do carry our bags and do things for us because they love us and they care.

• India
17 Jul 09
Hello friend, It sounds great that in this age of insecurity and suspicion, the four of you trusted each other enough to meet up. I would love to have such friends but then, MyLot is not so popular here in India and the people are not really excited about meeting new people through the net, given the rise in cyber crime.I hope I soon get to meet someone. Thanks for sharing your wonderful meeting with us.Waiting for the pics. Cheers!

• Jamaica
16 Jul 09
YOu have described it all so beautifully that I felt that I was right beside you throughoput the visit. I am so happy that it turned out so well. I would love to meet a Mylot friend but have only found one young lady in this country who is on Mylot. It is wonderful that you all became friends so quickly. This is incrediblwe. you have made a new friend for life.

• United States
17 Jul 09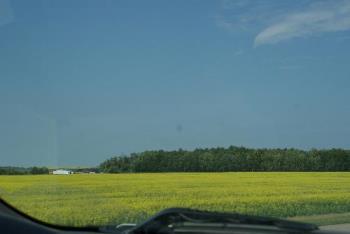 We did have a trrific time. Where is your island? I think you might be able to meet up with someone there and show off your island. I'd love that. You have found one person in your part of the world, maybe one day you two could meet up for a day or two.