BIRTHDAY at 75;

Hong Kong
July 18, 2009 11:02pm CST
At this moment our Mother was so excited because today is her big day.She's now 75 years old and she's still healthy and have a strong body build.Also active with her social life like attending Bible Study.We her children help her preparing food because our mother have lots of friends,she's a friendly kind of person. We all very THANKful to our LORD JESUS for keeping our loved mother safe and let her stay with us longer time. To all MOTHER's who celebrating their BIRTHDAY today,Happy birthday guys... When your mother reach her 75 old of age how do you feel about it?
5 responses

• United States
19 Jul 09
My mother passed away at 71. She lived longer than most people in her family. When I was little she was very sick and the doctors said she would not make it. I was so blessed to have known my mother much longer than the doctors predicted. What really matters is that we really appreciate our parents when they are with us and I had the blessing to be able to do that.

• United States
19 Jul 09
Your mother sounds so sweet. I wish her a very happy birthday.

• Hong Kong
26 Feb 12
my friend sysdexlicwriter (1210), Thank's of your wonderful wish to my mom...actually she's already 78yrs old this year 2012..And i thank GOD cause my mom still healthy and strong.I also wished your mother a healthy living and GOD bless her. Have a good day my friend.

• Philippines
17 Aug 11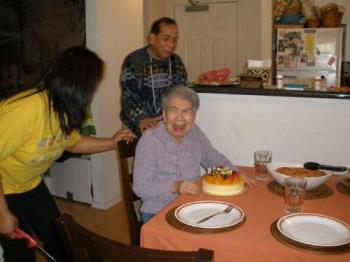 75 and still active and healthy. You really have so much to thank God about. So this is 3 months old and by now your mother is already 78. I hope she is still as healthy as before. Parents deserve so much love and attention. We should thank God indeed if they still reach old age healthily. Not all parents grow that old and it is only when they leave this world that many people realize the importance of having parents even if we already have our own family. So if our mother or father is still alive, let us celebrate their every birthday with all thanksgiving and fun.



• India
24 Jul 09
its a lovely feeling . happy birthday to her and all those who are reaching that age .

• Malaysia
20 Jul 09
Hi Joezon, it's great to have a healthy and happy parent around at that age. My dad is 80, and mum will be celebrating her 76 soon. And I'm so very thankful for their good health and mobility. Mum keeps herself occupied with taking care of the house, as well cooking for my dad and brother. And watch TV, videos as well as playing computer games! So I wish your mum Happy Birthday, and have fun!