I hate birds!!! Do you?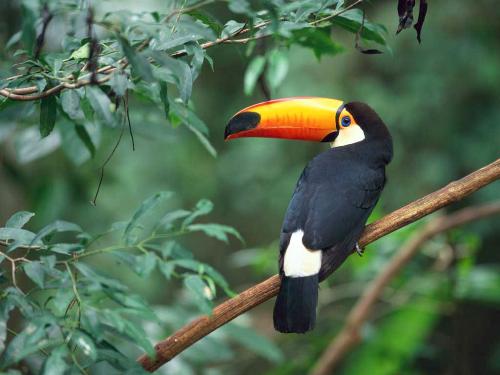 United States
July 23, 2009 2:10pm CST
When I was a little girl, I had an accident with a peacock. He pulled my hair when I were in the zoo with my family. Since that moment, I started to be afraid of bird. Like other people are afraid of snakes or different creatures, birds can get on my nerve. Do you like or hate birds? What kind of animals do get on your nerve? Why so?
1 response

• United States
23 Jul 09
I don't have a problem with birds at all, but i , like you do have a slight phobia of a certain animal due to an unfortunate incident that happened at a zoo...and so does my brother! though they are two diferent animals. My story first: When i was probably about 6 or 7 i went with my family to the zoo. We made a stop in the petting barn, which was always one of my favorite activities when at the zoo. In this petting barn, you could put quarters into one of those "bubble gum" type candy machines and get a handful of alfalfa pellets to feed the various farm animals. Well, i decided i wanted to feed the goats, as they seemed so cute and curious and friendly. So i got a handful of the pellets and started feeding them, then another handful, and another handful. Eventually we had no more quarters for the machine so i could not feed them anymore, and the goats wouldn't take "sorry, i am out of treats for you" as an answer! Well, that day at the zoo i was wearing a sun dress that tied around the back of my neck to keep the top up and on. Well one of the goats came up any grabbed onto the string with his teeth and pulled, untieing the top of my dress and causing it to fall down and off of me, leaving me standing there infront of all these people in just my underwear with my dress around my ankles! It wa SO embarassing, i started crying right there! For a very long while after that i was scared to go near goats anytime we saw them, either at petting zoos, the county fair, or even at a family friends farm that raised a couple of them! As i have gotten older i have mostly gotten over this fear and find them cute again, but if they were to ever start surrounding me, i fear i would regress to my seven year old self and start crying again! LOL. I also took away from that experience the habit of always double knotting ANY article of clothing that requires being tied to stay on!

• United States
23 Jul 09
Shoot, i got so caught up in telling my story i forgot i was going to tell about my little brothers! Once again, we were going through the petting zoo (maybe my family should just stay away from these places!) and looking at the animals. My brother was maybe 3 or 4 at the time, and was in a stroller, as it was a long day and entailed too much walking for his little legs at the time. I remember that i called my parents attention away from him for a moment, to point out something cute or interesting that another animal was doing (i don't rmember exactly what anmore, this was almost 20 years ago)and when we turned back to my little brother, he had this look of utter shock on his face! Apparently while sitting in his stroller he had reached up to pet a baby calf, and the calf decided his arm was something to try and nurse off of and had my brothers entire arm in its mouth up past the elbow! My parents quickly pulled him away and wiped all the cow slobber off of his arm, and he was fine, just in shock. I guess even though he was so young, this memory stayed with him as he has had an un-natural fear of (what most consider to be harmless) cows ever since. We grew up in Nebraska, which has TONS of cows, and used to live on the edge of town near a large field. This field was a nearby farmers property, and he would occasionaly allow the few cows he raised to graze there. If my brother and i were ever playing in the field, and the cows started wandering in our direction, my little brother would freak out and insist we leave the field and go inside the house to play. I think he was still afraid a cow was going to eat him!