jeff hardy won won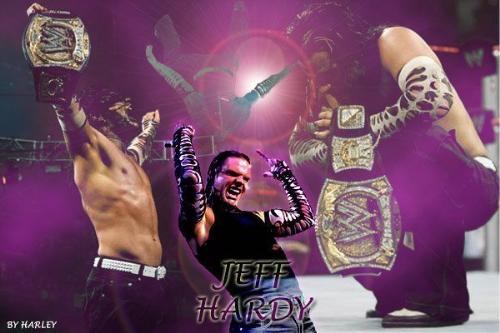 United States
July 26, 2009 10:32pm CST
Night Of Champions, some came as expected but this was a much surprise: Jeff Hardy WON!!!! Yes, I have been waiting for this moment for awhile.....I knew he was signed back on for the UK Tour in November but didn't think he would win this Championship. It was an awesome match and I feel CM Punk leaving the ring for count out got under Hardy's skin and then Hardy gave it all he got. Mickie James winning was awesome and I am glad she put Marsye "out" and showed Marsye she wasn't "everything". haha Rey Mysterio Won and was a close match that I really enjoyed. About time Dolph was told "off". I am glad legacy didn't win the Unified tag teams, but they need to stay out of Ortons matches. Of course Orton won. Michelle McCool won with a good cat fight to Melina. Christian won against Dreamer, which I am mixed on this one. I really like both of them and glad they could shake hands afterwards and still be friends. I know this hurt Dreamer by the look in his eyes. I am glad to see there are guys who can show their true feelings and be as close as this to their WWE career. Kolfi Kingston kept his belt. Which if the two Primo/Carlito would have quit fighting each other may have won the belt; one of them anyhow.
2 responses

• Philippines
27 Jul 09

Wow! it's been a long time since i watch WWE. i can't believe they're still around after all those years. you do know that it's all a stage planned fight, but the moves and stunts are true. imagine if they do it for real.



• United States
30 Jul 09
I have watched WWE for awhile and I can see where the moves are "planned" or "staged" you can tell when they set up for a move, but there are moves that are unexpected and do get hurt. Accidents happen, but I still like watching it and seeing the guys move......HARDY is my man.....:))

• United States
27 Jul 09
I think WWE putting the title back on Hardy was kinda dumb. If Hardy had not been threatening to leave, he probably wouldn't have got it. It is like they were saying "Oh, we will make you champ again if you don't leave". As for the diva matches, ugh, let's just say if it had of been Melina vs. Mickie, it would have been decent. If I want to see women wrestling, I will watch Shimmer or ROH. I am very surprised that the Dolph Ziggler thing has lasted so long. It was obvious that Mysterio was gonna win. Christian vs. Dreamer was probably the best idea of the entire show. Orton vs. HHH vs Cena is stale. Kofi Kingston is a very talented wrestler, but he is kinda boring in my opinion. I think that they should have put the tag titles on Rhodes and DiBiase, but I think I know why they didn't. Yup, I am now officially burnt out when it comes to WWE crap. They just keep doing the same thing over and over again. Seriously, just watch WWE programing for three years. (I've been watching for almost 10) You will see everything that WWE can do, and then it begins to repeat with different wrestlers. Thank goodness for the indys, without them I do not think I would have a reason to still be a wrestling fan. By the way, sorry for the ranting...I probably should have just wrote a blog...

• United States
30 Jul 09
I don't really thing that is why the put the belt back on Hardy, that was a last minute decision that night. I know he ripped up another contract so I feel it won't be long and he will leave---to an extent. He just wants a break, like Shawne Michaels and few others. Travelling and training and time wears a person out. Ziggler I can't stand either nor Bryan Kendrick. The Diva's they need to something more lively to bring them out more and not be so boring.....i understand you there. Orton, Legacy,.......I am tired of it and getting bored with it. This lasted too long, wayy too long. Everyone has their own opinion...thanks.