My sister's keeper: which end did you like book or movie? And why?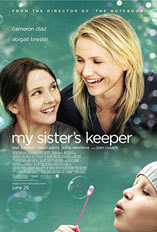 United States
July 31, 2009 9:46pm CST
I have read the book my sister's keeper, well I went through it like I go through any book that I believe I know how the end will be like only to be really shocked by the actual end and now I am retracing my steps. My daughter on the other hand has read the end and started again from the beginning. We youtube the movie (it is still in movie theaters btw) only to find out that the movie has a different end. Both ends are very sad but the book has a more shocking ending to me. So if you have watched the movie and not read the book I will not say anything else other than they are different. If you have read the book and watched the movie which ending did you thought was more appropriate? Which ending did you like more? Why? And why do you think the movie went in a different direction than the book?
2 responses


• China
1 Aug 09
This is a very good book,it is very shocked to me,but I hope the end was happy and perfect! Thanks for your opinion!