I was absent in mylot because.....!

Philippines
August 1, 2009 3:15pm CST
Trying to help and be helped I made a blog during this past few days. I really miss a lot.And I am so happy to let my friends and relatives understand about mylot. Hence I started my blog. Also to keep in touch with my friends and set a meeting site for online earners like me.

I am new to blogging and site making. But I tried my best and hopefully I could deliver my purpose effectively. There are some legit sites I've mentioned as I prove that it really PAY. Exchange links would it be good and safe? Thanks.


5 responses



• United States
1 Aug 09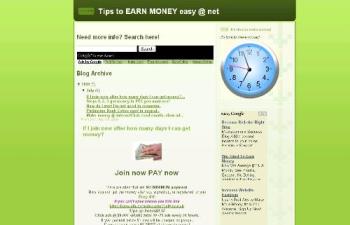 Hey zearah, welcome back I guess haha.. but yeah I'm sort of new to blogging and I'm getting real good At it I think haha.. It's fun and cool I'm also just trying to help and get the message out of making money online. As well and I get benefits out of it haha.. Well yeah I saw your blog keep up the good work and take care haha..=] Happy mylotting and Blogging haahha..


• Philippines
2 Aug 09

Yours is very neat and well presented. I wish I made my blog same with that one. But I am so happy then I made mine with the best thing I can. I lost few dollars in a month here in mylot. Because I constructed my promotion for mylot! But I am keep on learning how to make good in blogging. Thanks for your visit I really appreciate it!




• Singapore
2 Aug 09
Well zearah welcome back, I guess it is a massive task to start your own blog and it would be hard to maintain it. I wish you all the best. I have visited your site and what I found lacking would be the proof of payment that you got from these legit site. I am sure if you have posted that you have more referrers. Cheers. Cheers.

• Philippines
2 Aug 09

I made at the bottom the link to my proofs. Thanks that you have mentioned it. I ask my cousin to open it in here laptop. Oh, it's not working the link to my proof album. Lack of knowledge, but now I am learning little by little. It's already visible there my proofs. Hope you could advice more. Thanks


•
2 Aug 09
i was absent in mylot because i was so busy playing online games :p