Sky Diving are you afraid?

United States
August 3, 2009 11:26pm CST
I am deathly afraid of heights and I would not sky dive. Sky Diving is too risky. I want to be alive and well and being in the sky falling freaks me out. I know you have a parashoot but the thought of something going terribly wrong is mind boggling. I can't imagine falling thousands of feet and the parashoot not opening. It would fall of death. I know it is a thrill to some people but is definetly something I would not do.
2 responses

• Philippines
4 Aug 09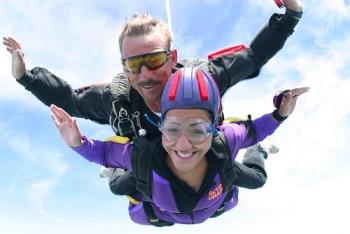 Actually, I'm not so afraid. In fact it is one of the things that I would like to do before I die. lol. I think it can be really exhilarating and fun. Of course, when the time comes that I do sky dive. I want a professional skydiver to accompany me just like in the picture below. I also want to go bungee jumping, white water rafting, scuba diving. Parasailing is pretty fun too and not too scary. lol. :)

• Australia
4 Aug 09
im really scared of dying, im also very scared of heights. i always avoid rides in themeparks whenever possible, and will never try sky diving or even bungee jumping!! arrghh!!!