Old way of cooking using woods..........

Philippines
August 4, 2009 3:05am CST
This is always frustrating whenever we ran out of gas and we don't have budget to buy new one. Gas price for cooking always increase and its very expensive now. The last time it took a month before it ran out but now it just 20 days only. I wonder why was not the same, perhaps its not the same content. Anyway like we used to do whenever we ran out gas to cook, we get back to old ways of cooking using woods. Its a bit difficult but at least we have save money using this old way. I guess we will used this for a while. How about you? are you still using the old way of cooking using woods? or is still someone of you here loves to use woods to cook?
5 responses

• United States
13 Aug 09
We use an electric stove to cook. But I have used a woodburner before in my old house, before I got gas heat. I also, heated the whole house with wood for years. It was a lot of work, but to be honest with you, I didn't mind so much and it kept me in good shape. It was great exercise. But the chimney started falling away from the house, and I had a job where I would be gone for about 11 hours of the day. So it just became challenging as a single female to try to keep up with the wood. I see you are from the Philipines. I have some questions for someone in that area, because of a current job offer that I have. If you get a chance to do a friend request and PM me ASAP I would greatly appreciate it. That is if you don't mind helping me out.

• Philippines
15 Aug 09
Hi kykidd, i agree its a good exercise too. About your question, i won't mind helping you as long as i can. I'll add you after this. Let me know then if what i can do to help you. have a nice day!


• Philippines
5 Aug 09
Hi Cjay77, its good to hear about you have the experience when your young. Its indeed true that it taste good when the food is cook using fire wood. I guess because its a natural way. I am sure you miss it.


• Philippines
4 Aug 09
Hello lilaclady, i agree with you its indeed very great meals whenever you cook using fire woods. That is a proven way. If its only faster to use woods then i would prefer to used it forever but since modern life has make things gone faster and so we have to go with the flow with the fast pace environment that we have.

• Philippines
15 Dec 11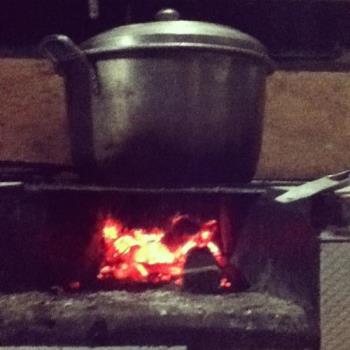 Using woods is just too messy. It takes so much ashes and so much effort but it is always economical. However in this modern day where everyone is just so in a hurry, using the old style of cooking is no longer possible for many. However in some areas, I've seen some people who still have a built-in stove for wood and charcoal at home and they use this as alternative stove in case they ran out of gas or during occasions when they need to cook a lot.


• Philippines
28 Aug 09
In my home, in cases we run out of gas. We use a charcoal like oven, in which it no longer takes us too much time to burn it. Their is a special design little electric fan with a little currents of electricity which use to blow wind inside and it keeps the charcoal burning. It is better to uses than woods, which I rarely uses, because it gives off ashes and irritates my eyes. Also, have problems blowing, if i never put gas on it..