My monthsary gift for him:)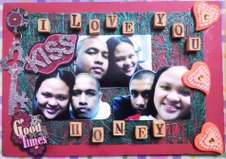 Philippines
August 7, 2009 8:22pm CST
My boyfriend is not here right now. I miss him. Last Monthsary, I made a little something for him. haha. I thought of making a card online but when I went to the mall, I saw some paper crafts and other stuff for scrapbooking. I just bought some stuff.. Red cardboard, green paper like, small letters that forms I love you Honey... and I cut off some pictures then post it there.. haha... some stickers too. Take a look. I took a picture then send it via his Email and uploaded it in his friendster. I plan to make it as a cover to the upcoming scrapbook... for our anniversary.. lolz.. I just hope that he'll go home. It has been tough year for us.. in our relationship though. Aja! Aja! Thanks for reading my discussion! cheers!
3 responses


• Philippines
8 Aug 09
Yep, it is really cool. I am thinking of something to gift on his birthday. I wonder why I can't see the pic that I uploaded in my discussion. lolz. Do you see it?


• Canada
8 Aug 09
That's a really wonderful idea. I think it's really nice when people show their lived ones how much they love them by doing something creative. I don't do a lot of off-line crafts, but I love designing little things for my husband, using my computer. It's a lot of fun to do stuff like that.