How much time you spend on Facebook everyday?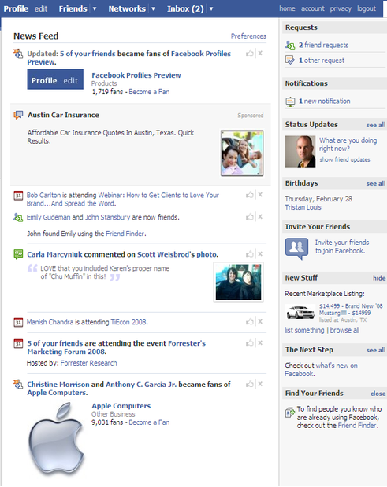 Hong Kong
August 14, 2009 10:03am CST
I like going to Facebook. And I think it is a very good social website. I usually spend about 2 to 3 hours on Facebook. I like playing Facebook game like Pet Society and Poker. Also I like seeing others picture, etc. But I dont usually update my status. What about you? How much time you usually spend on this web Facebook? Tell me more.
9 responses

• Philippines
15 Aug 09
Regularly, I spend most of my time in facebook. I keep on playing Mafia Wars and Restaurant City. It's been already part of my regular job... Ahehehe.

• Hong Kong
15 Aug 09
It seems like many people like playing Mafia Wars. I dont play it. But is it a really good game? Thanks for sharing~~

• Philippines
15 Aug 09
Yes, Mafia Wars is a good game and it is exciting 'coz you simply need to level up then fight other mafia. In fact, it is also a strategic game since you need to enhance your character in order to be a good attacker, defender or both. What not try it? There's no harm in trying... lol

• Hong Kong
15 Aug 09
Alright, let me go try to see is it a game that lotta people love it.


•
14 Aug 09
The last couple of weeks I have been spending far too much time on facebook- I have been on there for at least 3 or 4 hours a day. That is mainly due to being on holiday and not being away lol. I have started playing games like Mafia Wars and Farmville and they are so addictive I find myself playing them all the time. I do not know how I will cope when I return to work next week!

• Hong Kong
15 Aug 09
I really think taht if you play too much. You will get bored easily. Thanks for sharing~~

•
15 Aug 09
I suppose you could be right, but it gives me something to do when things on here are a bit slow.


• Hong Kong
15 Aug 09
Do you play Poker? I think it's a good game in Facebook. What do you think? Thanks for sharing~~

• Kuta, Indonesia
14 Aug 09
I am rarely logging on facebook because I need long time when opened facebook (my connection not stable). Usually in 2-3 days I logging on Facebook if I want say hello to my friend.

• Hong Kong
15 Aug 09
Maybe is the virus~ I dont know. Happy mylotting~!

• Philippines
14 Aug 09
Really depends. If I catch up with a friend, we'd chat. But if there's nobody (I am paricularly interested for a chat), I won't stay that long in a day. Besides, I sometimes leave my facebook window on, just in case I receive a message from someone

• Hong Kong
15 Aug 09
I dont like talking with others by using Facebook~ Happy mylotting~

• Canada
14 Aug 09
I don't spend much time on facebook. I only go on facebook to see what my friends are up to and to see pictures. Face book can be good and bad. The good thing with facebook you can see what friends and family are doing and find old friends and classmates. The bad thing about facebook you can make enemys. I have seen fights on facebook.Girls fighting over men and husband and wifes divorce over facebook.Enjoy your face book.

• Hong Kong
14 Aug 09
I have naver seen the fighting. Luckily, I think I dont got any enemies in Facebook~~ Happy Mylotting~

• Hong Kong
14 Aug 09
Only 10 minutes. What a short time!! Happy mylotting~


• Hong Kong
14 Aug 09
Some of my family is just like you. They have they Facebook account. But I have never seen they update their status.

• United States
15 Aug 09
i feel like facebook is way popular than myspace these days just look at how many people come on to the facebook spot and not the myspace one. well to your question. i'm a old member on facebook i mean by this i'm not old i have just been on facebook for about a year and i still only have about 20 something friends on there. i don't add anyone i know now just people i have known since elementary school or middle school because i would like to reconnect with them. and i spend about 5 to 10 minutes a day on facebook. then on facebook aps i spend about 1 hour. and i never message anyone on facebook except when they message me i message back usually i just chat using facebook comments replying on people status. and i update mine all the time.