Jogging is the best way to remain fit

India
November 13, 2006 10:43am CST
I daily jog 5 km and i have a non fat body what you do to remain fit?
5 responses

• Singapore
14 Nov 06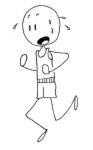 Can u explain by having a non fat body? As far as im concern, every human beings needs to have some fats to survive so what do you mean by having a non fat body? However i totally agree with you that jogging is one or in fact the best way to keep and remain fit. Because of my schedule im not able to run everyday but i try by best to run at least 2 to 3 times a week about 5 to 8km and in this way im able to maintain my fitness as it is:)

• India
3 Jan 07
Not bad at all one should try to be as regular one can.

• India
13 Nov 06
you are correct jogging is really a good exercise

• Germany
13 Nov 06
i dont jog but i do yoga daily and i have healthy body