How did it started for you to have a pet? Or would you like to have one?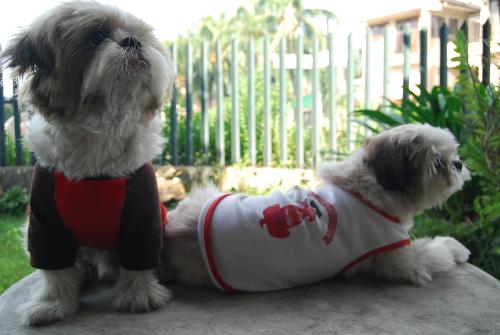 Philippines
August 15, 2009 2:13am CST
Hi everyone!

I know we all so love sharing about our pets. The joys they give us and the special tricks they can do. Some have even shared when their pets get sick and have updated everyone when they become ok. But have we ever looked back on the first day when we got them? Yes, let us share how we started to have a pet. Was it your first choice? Was it given or bought? And till date, how many pets have you had already? As for my pet's history, I bought my very first shih-tzu year 2002. I was so bored with my life back then. All I did was drink (yeah get drunk) with my cousins and uncles and waste my money on having fun almost every night. I kept on spending on clothes, cell phones and dine outside treating my cousins. Technically, I was wasting money. I go home very late at nights. I even almost take fore granted my job. Then I woke up one day, seeing what my life is becoming and realized, I need some responsibility to get me focused on good things. I was watching TV one afternoon, Animal Planet in particular. They were featuring dogs from A-Z and they're on the letter S already when I turned the TV on. I saw this cute little dog, with a very long hair and a pony tail on top of its head. It was so playful, friendly and very adorable. I just fell

in love with the breed that very moment and I said to myself, that's going to be my responsibility. And the rest well, its history. I have two of them now.

Now, let us hear your pet's story!
3 responses

• United States
22 Feb 10
The first pet I recall having was a rabbit. My dad got her from a friend but we didn't have her for long. We had to give her away. Then my dad went out and got my siblings and I some baby chicks. They were really cute when they were small. Mine grew up to be a white rooster who was a bit on the mean side. She even beat up on my cousin's dog one time. Sadfully, we had to give them away because they were noisy and the place we were living at was not ideal for chickens. We went many years without any other pets. Then my dad decided he wanted some birds so he went out and got a pair of lovebirds, cockatiels, parakeets, and even a few japanese quails. Our backyard ended up looking like some kind of bird zoo. We also had two guinea pigs too but had to give them up since they were breeding too fast. We had to sell or give away all the birds because my family decided to move. And that leads us to the present. Right now, we have two shubunkin fishes. They are around 6 years old now. And we also have two chihuahuas which really shocked me because my parents were never dog people.

• Denmark
3 Feb 10
When I was a child my family had a couple of different dogs, a budgie and a guineapig. My mother loves animals, and I have had pets my entire life. When I moved out of home and started living on my own I didn't have any pets in beginning, because I lived in apartments where pets weren't allowed. In 2008 my husband and I asked our landlord if we could get two rabbits, and he said that it was okay as long as the neighbours didn't complain about the noise or the smell. Later we got 4 other rabbits, and now we have 6. We live at a different place now, and pets are allowed here. In 2009 we got a cat and a dog (a golden retriever) and in the beginning of 2010 we got two guineapigs.

• Philippines
12 Oct 09
I am born in a family who loves animals.I grew up with several dogs and cats.now,we have cats.the issues is we can't adopt dogs now because my mom's afraid that our cats might leave us.those lucky kitties!