sooon!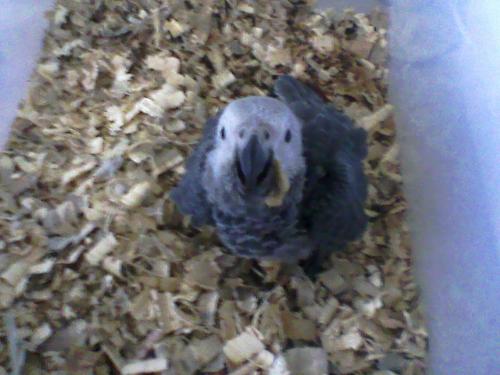 United States
August 23, 2009 4:53am CST
I cant wait! a shiny brand new Congo African Grey will be coming home to me soon, few more weeks now..almost weaned. Its been a long time since ive had a parrot, used to have a grey too. worked with a man who brought him over from Africa and gave him to his father..who passed away and nobody wanted the bird. poor thing was depressed and not eating much at all, the man new we had other birds and offered him to us in the hopes that he might perk up. i drove from the west coast all the way to the Gulf of Mexico to get him! i was very excited lol! Katonga did not like me. he made farting noises at me (LOL!) and did all the classic tricks to get me to attempt to pet him and then CHOMP!he had a history of not liking women..sigh. but i was determined to if nothing else give him a home. when we FINALLY got back and brought his travel cage in (covered) and sat down, i was speaking with my boyfriend and Katonga started making chirping noises..which he hadnt done during the trip. it worried me so i uncovered him before his full cage was ready, he was clinging to the door and looking a bit panicked. i opened the door for him hoping he would be friendlier in a new place being that i was at least slightly familiar. he wizzed out of the cage and headed straight for my boyfriend and light speed!! i yelled "dont move and dont try to touch him!" to which my boyfriend responded "he's going to bite me!!" which i was pretty sure is exactly his intentions lol!however we were wrong. Katonga climbed up his pant leg up, to his arm and then straight for his shoulder. here im thinking omg he's going to lose an eyeball, and was about to sacrifice my hand to save his face...when..Katonga put his beak in his ear and started cooing!! making all these little lovey dovey noises and then telling him all about how horrible the trip was and how we had mistreated him by being in his presence and then TRIED TO FEED HIM!!it was amazing! Katonga had only heard his voice and was totally in love! i was a bit jealous of course but VERY happy that Katonga had found someone to replace his "mate" of some 13 years. he even ate like a pig only an hour later, so a very happy ending lol!when my boyfriend and i broke up..the bird was technically mine, but there was no way i was going to take him away. i didnt even think about it. he was very lucky to not have pined away when he lost his first best friend i dont know if he would have survived losing another. so i was greyless lol! but pleased with my inadvertent matchmaking!and NOW im super happy to be getting a baby of my very own! talk about a surprise bday gift lol! weeks to go and ive already bought all kinds of toys lol!
3 responses

• United States
23 Aug 09
Lucky you! I couldn't ever imagine owning one though as they are too much bird for me.

I'll just stick to the smaller parrots.

LOL It's sad that you gave up your other bird, but at least it had a happy ending.

Happy birthday!

• United States
23 Aug 09
I almost missed the picture since I responded directly from my email. What a cutie! Congratulations on your upcoming addition!


• United States
23 Aug 09
yeah i was bummed, but they both adored each other so who can break up a happy couple and feel good about themselves right LOL!

• United States
23 Aug 09
hehe yeah he was demanding more food..as if he didnt have any saved on the side of his beak there for later lol! thanks for responding!

• India
23 Aug 09
Seems like you have great love for Birds. I saw the picture too.. Bird looking beautiful. Katonga did not like you? he made farting noises at you? that was really nice to hear from you

. So you prepard buying all kinds of toys already? Best wishes for you in welcoming your new Bird.Have a nice time!



• United States
23 Aug 09
being "farted" at was getting off lucky actually! the home he came from had a maid that clean twice a week and he REALLY didnt like her! everytime she came in the room he would call her a b*tch!! he never called me that, probably cause i was the one who bought new toys and treats to him most often (in the hopes he would eventually like me) LOL! thanks for responding!

•
7 Sep 09
This is really great CinderInMySoul, to have a bird at your place, it is such a beautiful thing to have in the house around. I still remember to have some 12 to 15 birds when once my brother brought for me and then we release them after some two or three days.