Another finish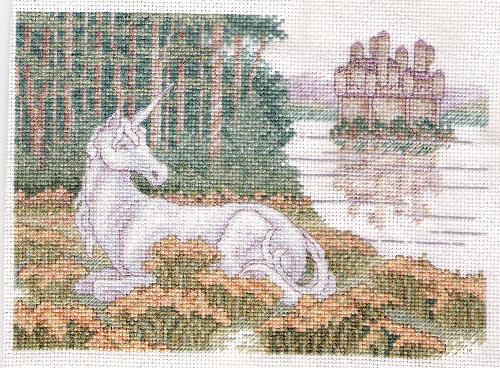 St. Catharines, Ontario
August 24, 2009 1:33pm CST
I thought I'd share a shot of the Teresa Wentzler "mini" I finished earlier this summer. At first, I thought it was a nice design, but as I worked on it, I got to hate it... more than one symbol for the same color, depending whether full or half cross (could have just shaded them) and too many blends for such a small piece (7"x5") and lacked definition. As for the blank spaces, might have looked better on a pale blue linen, but I used the ivory aida that came with the kit. But, I'll frame it anyway, leaving a 1.25" self-matt border.
5 responses

• Poland
28 Aug 09
Hi, I really like this design, well done. I have started another project today. I want to give it as an anniversary gift but am not sure if I will mount it in a card or frame it. Haven't found cards with the aperture I require and need to finish it by next week. Not sure if I'll make it since it is on 28 count eavenweave and my eyes are already blurred since it is so small and the color I was working on was a bit light. I also intend to change 2 of the patchwork to include the names of the persons. Haven't done stitching for almost 2 years now since I left my last project unfinished. Hope I can finish this in time now. Well done for your work and keep it up.

• St. Catharines, Ontario
29 Aug 09
Thanks for the kind words. Have you ever used some kind of magnifying device when stitching? I sometimes wear a pair of dollar store reading glasses over my regular glasses when working small... sharpens things for me. Good luck with your project.

• Poland
29 Aug 09
I had a magnifying glass that hangs with a lace around the collar but cannot find it. Will have to do another search today. I surely need it to finish it within next week otherwise it will be difficult and I'll end up with a headache.

• Poland
29 Aug 09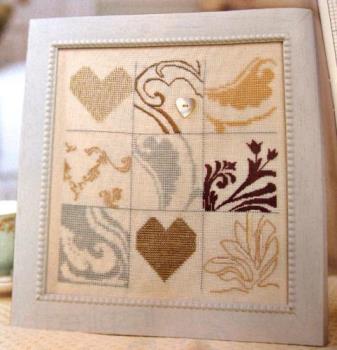 I finally found the magnifier!

This is the image of the work I will do but I will change the middle top and bottom patch to make it personalized, have not decided yet how to do it.


• United States
24 Sep 09
Being a devoted x-stitcher myself, I think there should be an award bestowed upon anyone with the patience and devotion finish ANY Teresa Wentzler project. Kudos to you for not only taking on a Wentzler project, but BIG OL' HAIRY PROPS TO YOU for finishing it! (I really LOVE Teresa Wentzler's designs...)

• St. Catharines, Ontario
24 Sep 09
Thanks. Her designs are beautiful, but sometimes more complex than need be.

• United States
25 Aug 09
Oh dear I love this - it's 'soft' looking the way the faded colors blend gives it an antique look. I wish I had the patience to do cross stitch - tried a few times over the years but I'm not one to 'follow a pattern' so ended up never finishing what I started :(

• St. Catharines, Ontario
25 Aug 09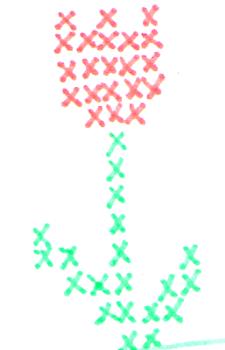 Thank you. As for patience, cross-stitch teaches patience... I look at it as a form of meditation. This is not a pattern to start out with, though. If you want to try it again, get a small, simple pattern, like in a kit for kids.

• Petaluma, California
17 May 16
It's gorgeous -- but from your description it sounds like the pattern was made "weirdly".

• United States
15 Jul 16
@BarBaraPrz
I have a pattern booklet by Teresa Wentzler of a castle. As a designer she is unsurpassed. I do have a little bit of a problem with all the blends and differing symbols for the same colors. What a beautiful job you did on this piece. How long did this take you to complete.

• St. Catharines, Ontario
16 Jul 16
Sorry, I don't remember how long it took... it was back in 2009!

• United States
16 Jul 16
@BarBaraPrz
I know it must have taken quite a while. It turned out beautifully.

• St. Catharines, Ontario
16 Jul 16
@HazySue
Thank you. It sits on a bureau in my dining room.