Prepaid V/s Postpaid/Billing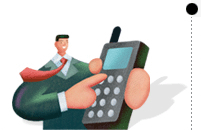 India
August 27, 2009 11:07am CST
Hi friends,I am sure 99% of the readers of this post must be owning atleast one Cellphone. If not personally, atleast at home. So, which method of payment do you prefer? Prepaid, or Postpaid?I myself prefer to use Prepaid. This is because I dont want a Heart Attack when I get my bill at the end of the month. I recharge my phone once every week and prepaid helps me keep control over my conversations. What do you think about the two options. Which one do you prefer and why?
2 responses

• Indonesia
27 Aug 09
I'm using prepaid card on my mobile phone. I think prepaid card is the best choices for me. I will pay first before using my mobile phone. So i can controlling my mobile phone expenses anytime. Several years ago i tried to using postpaid billing card. After a month of usage, i was surprised with the bill. It was $200 only on one month. I think i also pay an equivalent with my current prepaid card but it don't make me feel have any objection with the expense. I top up my prepaid card everyday but i don't mind with it. My job requires me to contact many people in a day so that's why i must keep my prepaid card has enough balance for making calls and texting. I also use my prepaid card for prepaid mobile internet broadband. So, with my mobile phone, i can do many things with this prepaid card. My communication is powered by prepaid card. So i think no need to upgrade to postpaid card again because i'm afraid i can't control my postpaid card usage like before. It's very horrible to see your monthly bill if you use postpaid. It happened to me before. Good luck and have a nice day. Happy mylotting.

• Philippines
27 Aug 09
I prefer to use prepaid cards or prepaid load by paying certain amounts depending on the uses of my cellphone. Then, never like the idea of having to pay for the monthly fees as I am a type of person who rarely texts but love to uses my cellphone for important matters.