Where I can Get Some Explanation For This?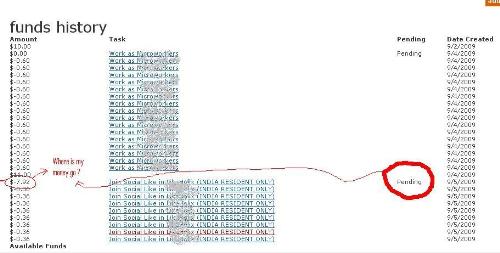 Indonesia
September 6, 2009 10:30am CST
I have create a task for 30 jobs offer and i ads my fund into Mylot task, but somehow after 8 jobs done by the participant, suddenly my task are become pending and has expired without notice living my $7,2 that should be 22 jobs available was no where to be found. It was not $7.2 money i really concern is but about the trust, the reputable and responsibility of mylot to explain abaout this. Right now i don't now where i must go, because i can not cantact them because the contact section was only frequently ask question, even i can not get a ticket to write a complain. Please i think this was about misleading from no where i could ever done mistake with mylot, but some explanation was enough for me.Please give some clue... From this discusion i want to apoligize to all my lotter friends that i promises them to take the task but somehow the task was never exist to be done.
3 responses

• Malaysia
9 Sep 09
I can understand where you're coming from. Your reputation is at stake here. You must do something otherwise fellow myLotters here will not trust you. We always think that when the tasks that we do don't get the desired response from the task creator, it's the fault of the task creator not realizing that it might be a glitch in the myLot system. MyLot should make amends.

• Taiwan
7 Sep 09
Hey Man, I'm sorry to hear that, but you can try the contact form to reach mylot staffs for an explation. Select 'Other' from the dropdown of the 'Contact' screen, then a contact form will be presented. you can put your situation there, and let your voice be heard by the mylot administrators. Good luck,