Babies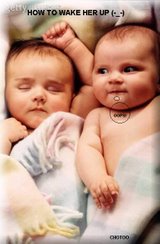 India
November 13, 2006 7:13pm CST
I like babies . esp the toddelrs.I never see my nephew cry & always pick them hug them & kiss dem. these cute things are lovely to look at, to cuddled & shld enjoy the honey drawled voice of babies.do u like babies?
4 responses

• Nigeria
14 Nov 06
Yes i do like babies but i don't have enough cash to take care of them

• Philippines
14 Nov 06
i love babies...from infancy to about 3 years after...after that, oh brother...lol

• United States
14 Nov 06
I love babies. I could have newborns forever. When they get to three, it gets harder. They say terrible twos but I do not agree, three is much, much worse.