i went to an wwe event!!!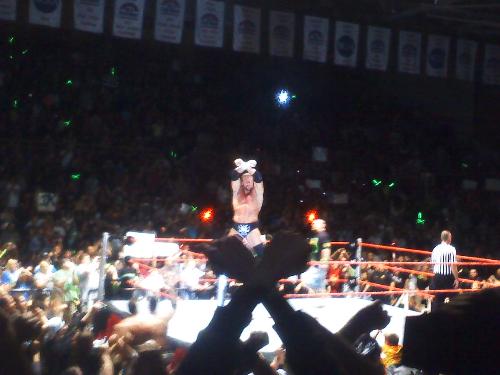 United States
September 12, 2009 5:36pm CST
Ok, WWE discussion group.....I told you I would write to you about my adventure to the WWE event near my home. I had a bunch of homework and term papers to catch up so here I am: Me and my son went to go see the boys live near our hometown. We left about an hour early, got in line pretty descent spot, not too far from the doors. We got in, and found our seats...We were actually closer to the ring than I thought, (darn it didn't bring camera) but I did have my camera on the phone!!! They brought the matches out one after another...first match Evan Bourne and Chavo Guerro. Evan Bourne won and Hornswaggle came out and danced around the ring, the Chavo set Hornswaggle on the ropes and was going to flip him off when Evan came to help him. Next out was "Riley" a new guy and Charlie Hass....Charlie won. The was Santino and Chris Masters. Santino said a few words then got beat. poor guy can't win for nothing anymore but makes a cute comical act. Then comes the 6 Diva tag team match. These girls were on the ball that night Beth Pheonix, Mickie James, Gail Kim, Kelly Kelly, Rosa Mendez, Eve. The Winner is: Mickie James!!! yea...Very action packed and always something going on when the referee is turned.... Here comes Kolfi, Primo, Carlito,? Kolfi won but barely with Primo and Carlito against each other, they are working very well to set their "individual" skills to the max. Kolfi and Primo worked very well together. (think this one was on Monday nights also) Next Up the BIG boys...Big Show vs Mark Henry...Mark got the pop and got the audience working. Both will keep each other from falling, then when they did, i was hoping the ring didn't fall apart. it was a loud boom!! Big Show got the win for taking the cover off the post and putting Mark's Face into it. (this one was televised that following Monday) Guess who is Next: JOHN CENA, TRIPLE H vs Cody Rhodes, Ted Dibiase!! this match was long and at first slow to get started. cody of course would run out of the ring and "hide" like his normal self and act like a baby. then They would gang up on Triple H. Cena was always getting the crowd to chant and cheer, then go in the ring and show the two babies how it is done. Cena got it by pinfall. then Triple H and Cena would go around and shake and tap everyone's hand in the front row. We tried to make our way up there but it didn't work. Son was really upset, but told him maybe next time. Some of these matches were on the following Monday night, but probably "rehearsed matches." Before all these matches they said we "could" be filmed for televised events but this wasn't one of "Live" shows. This was still cool and interesting to see and will definitely go to another....maybe a LIVE event.
3 responses

• India
12 Sep 09
Hi charbiaze, So, you got the seats near to the ring, that was really lucky but not so lucky to have the cameras on you..

Will see those matches in the Televisions.. How about the live experience. Is they looks like the real thing? Thanks for sharing your experience with us.

• United States
12 Sep 09
You can see the moves that are real, and see the "fake" moves. I am sure they practice and rehearse these matches. If you watch carefully on television, you can see where they "prepare" for the next move. Of course, the lifting and throwing on the mat is real and the sounds of the ring, it is not pretty. When one got kicked in the back, you could see a red mark and "hear" it thud and I am sure that hurt for awhile after the match. It was awesome and I uploaded a few of the pictures in the images. Though I didn't have my camera to zoom in and get the perfect picture, these are on my cellphone camera so sorry for the "generic" images.

• India
12 Sep 09
Yes, i know this is the fake ones. I can see that they just don themselves during the closelines and other ground activities. How do they take the other things like power bomb, slam,etc.,? Is they real moves? Do you think that the wwe ring is designed not to hurt by such moves?

• United States
13 Sep 09
The clothlines, powerbombs, etc..they are half and half, they still need to know how to position themselves to make sure they don't severely hurt themselves, then they put their hands on where it won't hurt them that much. the ring, it still hurts. mat not that thick so it will hurt.

• Portugal
12 Sep 09
Well, interesting but rather extensive read. Not a big fan of WWE around here. Or well, I used to be back in the days when Stone Cold, a.k.a. Steve Austin, called the shots. What happened to him? I know he's retired but what were the reasons back then anyway? Age?

• United States
12 Sep 09
Stone cold went to movie's/films like alot of the wrestlers. He had alot of neck and back injuries so it was best for him to retire. if he had another concussion it could kill him, back then alot of moves were real and hard felt. Nowadays, it is too tame except for Randy Orton's rudeness. Stone Cold and Vince McMahon never did see eye to eye and Stone knew he could get his way because he would just shove Vince's mouth up and didn't care. ruthless. Vince really didn't care, i don't think because he was "top dog" and making the company money. I wish those days were back...its getting pretty boring right now. :(( Sorry for the long read, got alittle excited. hahaha think he is in his mid 40's.

• Portugal
14 Sep 09
Hey, no problem, that was informative and interesting to read, unlike most of the replies around here. I didn't know he went to movies, I thought that was more of a The Rock thing to get done ;) Can you name some of the movies he's been in then? Are they any good? And yeah, that feud with Vince was quite entertaining. Indeed those were the days and the action was more the real thing. Nowadays I can't stand watching it because things are beyond staged and that really sets me off. Guess that doesn't stops true big fans like you though anyway.

• United States
12 Sep 09
wow - sounds fun!!! I've been to three live WWE events, with my husband. I actually had a lot of fun at them. Unfortunately now a days we just don't have as much money to spend frivolously, so going to these expensive events won't be in our near future. lol Oh and my favorite people that I saw in person, at a WWE event were Ric Flair and DX. Oh and we went to a WWE event in Pittsburgh PA and ended up seeing some of the Steelers Football players - that too was awesome!!

• United States
12 Sep 09
We got pretty close to the ring at the end, but didn't to shake or touch their hands. mmmm.....I seen many gang up by the RV's and the outside doors but I didn't want my son to be trampled. I told him, next time we will try and get there early and go to the RV's and see if we can meet them. I enjoy watching and hearing about the wreslers and all, but I don't want to put my son's life in jeopardy to gang up on these guys. I know they probably get tired of all the hustle bustle and get tired and want to relax also. I have been trying to get front row seats for the next one, no avail yet. :( darnit!! My seats were actually cheap and closer than some of "floor seats" which would be upsetting if I paid all that money for the floor seats.