Guyabano fruit - a natural cancer cell killer

Philippines
September 17, 2009 7:57am CST
The healthiest fruit i ever known.For those unfamiliar with the fruit that heals, here is my brief description. It is heart-shape with dark green, leathery and spike like skin. The tropical fruit is rich in vitamin c, vitamin b1, vitamin b2, potassium, and dietary fiber. It protects the immune system and avoids deadly infections. Unlike chemotherapy, the compound extracted from the graviola tree selectively kills only cancer cells, therefore it does not harm healthy cells. It only targets malignant cells.An all natural therapy is extremely effective.Maybe you are wondering why some people are not aware of these facts, maybe because some big corporation want to take their money back for the expenses in years of research. I believe its better to eat lots of fruits in lieu of vitamins and other unnatural supplements because they are still processed products and do you it has no side effects? I'm not sure with that.
9 responses

•
17 Sep 09
Unfortunately, i don't like this fruit. Just wondering, is this similar to the chirimoya in Bolivia and Peru? I thought they were similar or must at least belong to the same family. If it is a variation of the same family, then it is another natural cancer cell killer. In Bolivia, they have done a wonderful chirimoya ice-cream. Have you heard of a guyabano ice-cream before?

• Philippines
18 Sep 09
yes they are with the same genus. Maybe you don't like it because of it's sour taste. I believe its more effective when taken naturally and not processed.

•
18 Sep 09
Sour? Chirimoya is quite sweet and I don't think Guyabano is either.


• Philippines
19 Sep 09
A big yes! We are very much lucky and we don't need to spend a lot in buying expensive fruits which are less nutritiuos

• Saudi Arabia
17 Jun 10
its very nice to hear ..plz add detail in this ....is the fruit or extract is beneficail in cancer treatment plz add detail ..i urgently need cause i import some fruits for treatment from india and i dnt need to waste them plz help me am waiting thnx

• Philippines
24 Sep 09
Yes i love this fruit. I use to eat this almost every twice a month. It's very delicious! I have guyabano trees at home. :)

• Philippines
27 Aug 10
i wanted to give a try, i was jst operated. total hysterectomy done and it found out the result of my biopsy is endometroid carcinoma and thank God it was confined in the uterus only.and by sept 10 i will be referred to another doctor and base on my biopsy result dat doctor will decide on what further treatment i have to undergo,so by all faith i wanna try to eat its fruit and leaves as my water.thanks so much!

• Philippines
18 Sep 09
Guyabano in English is soursop. I like guyabano also it is rich in Vitamin C and fiber. I like when it is made into juice. My grandfather had a guyabano fruit before I we hate to go near to it because it is full of ants but the flower of it is very fragrant.

• Philippines
19 Sep 09
We are blessed we have lots in our place.


• Philippines
19 Sep 09
I'll be glad if you could try this one. I assure you it's a great fruit.


• Philippines
19 Sep 09
Thanks.Same here. It's safe to be natural because you will not have to worry of the side effects in the future.

• Philippines
22 Sep 11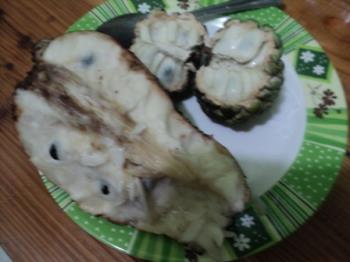 Yes you are right guyabano has been discovered to be a very effective cancer cell killer. This is the best substitute for chemotherapy which is actually a very dangerous process because it does not just kill the cancer cells but even the good cells. So to those who have cancer, they should rather eat a lot of guyabano fruits and also juice of its boiled leaves.


• Philippines
12 Oct 10
Yes, the Guyabana is a really "miracle" Fruit. I will export this fruit to Germany. With sunny greatings from the Philippines. Gerhard Menje www.FruitsfromParadise.com

• Philippines
23 Sep 09
welcome to mylot bel and hope you like it here like most of us do. this is a good way to start your mylotting.... sharing good information to this site. i am happy that my children eats a lot of fruits and guyabano is one of those fruits that they love to eat. i know that fruits and veggies are very important to our body but realizing it more is very beneficial to all of us. thanks for putting this up. keep up the good work.