Nokia Dual Sim Phone?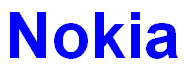 India
5 responses

• India
19 Sep 09
No Nokia,the world's leading mobile brand didnt have produced any dual sim mobile till date.....samsung,karbonn and many other companies have released dual sim mobiles but nokia is still not in the race....though dual sim mobile cost very low but still it have many disadvantages....a mobile fon have to recieve 2 signals at a time...just to keep both the networks active...so it creates a lot of pressure on the cell fon...the signal receiving transition becomes weakened....and the battery also gets weakened....so thinking all these disadvantages nokia....didnt prefer to join the race of the dual sim mobiles....i think nokia believes in quality and not in quantity......it keeps the quality of the fon upright....it might be possible that the cost increases but reputation of the company remains intact.

• India
18 Sep 09
hi kool i have heared about nokia dual sim phone..but i don't tried it...one of my friend has that phone...and he tell me....it is very good phone and you will talk at a time both of sim which you want...so it'sgood features..in that phone...and it has many of other good...featuers..

• India
18 Sep 09
Not as of now Nokia doesnt have any Dual SIM phones, but there are other which provide dual sim, Samasung dual mobiles are good and the reviews about those are also good so probably you can think of that cell phone

• China
29 Sep 09
No double-card mobile phone nokia. But you can choose a card pairs of numbers. Is also very convenient.

• India
21 Sep 09
I don't think nokia have dual sim phones but many phone brands have dual sim capability, go for them.