Ridiculous Burger Challenge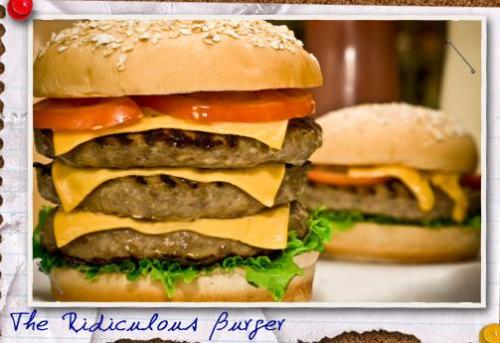 Philippines
September 22, 2009 3:22pm CST
Want a FREE Ridiculous Burger?? Here in the Phillipines, we have this Burger Store called Burger Avenue. They have this super gigantic 3 patty burger which they called The Ridiculous Burger. This burger is so popular because of the challenge. If you want to eat this 'Ridiculous burger' for free, then you must take the challenge. You need to eat the burger in 5minutes. Pay first for the Burger and wait until it arrives. Then the cashier will lead you to a table where you can take the challenge and they will give you Ridiculous Burger together with the bell and timer. In just 5 minutes, you have to finish everything, no vegetables or any left over in 5minutes. Food that falls on the ground will lead you to disqualification. The cashier will make sure that everything is eaten withing the given time. If you get to finish the Ridiculous Burger in less than 5 minutes, then you get a full refund of the Ridiculous Burger. Your name and photo will be taken and will be posted in Burger Avenue. My friend joined this challenge yesterday and we had so much fun! I can't believe he made it! The burger was so delicious but I don't need to eat it all up in just 5minutes!! How about you? Will you take a challenge like this? or Have you ever taken this kind of challenge? another photo of the Ridiculous Burger: http://i34.tinypic.com/2je22h5.jpg
5 responses

• Portugal
23 Sep 09
I don´t want to be mean here, but reading your post I was wondering: my god,isn't this "making fun" of those who don´t have nothing to eat? All this food contests are sad... (sorry about this thought. I know this it´s not your fault.) But about your question: Once some friends of mine and me decide to make a contest with donuts (I love them.lol) The slowest to eat the box with 6(!) would be the one who have to clean all the kitchen in the end and to go without shoes to take the trash:) (I know it's stupid but the kitchen was scary after 2 days party.lol). Well, the contest didn't went very well... A friend of ours got choked, but serious choked! I laugh now but at that time we felt panic! He was turning red and he couldn't breed. He finally got well, but we learnt the lesson: never to make food contests when you are drunk! LOL PS - He had to clean all the kitchen, but we forgave (forgave or forgived?! help me here!) him the trash...we didn´t want him to stuck a glass or something in his foot!LOL

• Philippines
23 Sep 09
It's okay,I understand. But there are still some people who would like to go with the challenge not just to get a free food but to have an extreme experience. Of course, if you happen to put danger in yourself while doing the challenge, the staff at the store will rescue you. LOL! It's all about having fun plus ridiculous experience on how will you take the challenge. Another marketing strategy perhaps? Because If you won't finish the task then you will not get a refund. It's fun to try it out sometimes. I love the burger but I won't take the challenge. haha

• United States
22 Sep 09
I want one... But I'm no where near the Philippines.

• Philippines
22 Sep 09
Is there any similar challenge in your country?

• Philippines
3 Dec 09
hi bubblepink! saw this discussion is three months old and i was wondering if the challenge is still on. anyway, where is burger avenue located? the burger looks delicious. not so sure if i'll enter the challenge but just for kicks why not? cheers!!!

• Philippines
3 Mar 10
sorry for the responding late. Yes it is still on. It is located in AVenue in Makati Ave. :) hope you'll enjoy it. I tasted their burgers and loved it!

• Philippines
17 Jan 10
Hi there Bubble Pink! That burger looks delicious and I would like to try the challenge although I think I would fail because it looks too big. I would try it not to get free food but just for the fun of it. I don't think I would win anyways. I doubt that that burger place is somewhere near me though because I live in a province. And if it is delicious as you said, I would prefer to eat it slowly to savor the taste. The thing is, I would try, given the chance.

• United States
2 Dec 09
We have a similar challenge here in Las Vegas. It's called the 6 pound Burrito Challenge. I could never do it and wouldn't want to either but people try it all the time.