Hair lose!!!

India
October 2, 2009 11:39pm CST
My age 29..i'm very losing my hair..so pls any solution sir tel me? what shampoo?? what treatment..i don't wanna bald....
2 responses

• Canada
20 Oct 09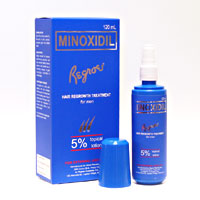 hi, first know what's causing it so you can find best treatment suited with the cause of your hairfall or hairloss, common cause is hereditary, to minimize or stop, avoid stress in your life, go to bed early but if you can't avoid going to bed early, make sure not to take shower in the morning espl. if you are used to shower with warm water coz it make hair folicle dried up that causes fast shreading of hair...for best treatment, use topical lotion with minoxidil preferably MINOXIDIL 6% by REGROE, you can buy this at any branch of SM Watson store. this product is oderless, waterbase so it is easily dried up, easily to apply and can mix up with gel or pomade..if you are using shampoo's, use the mild one and use it intervally...try it, works for me....i know how you feel right now cause hair is one of our physique shining glory...have a nice day!

• United States
3 Oct 09
Have you tried Rogaine? This is an FDA approved product. Claims to slow or stop hair loss within 3 to 6 months and actually grows hair after that.