Edward is ugly, children:]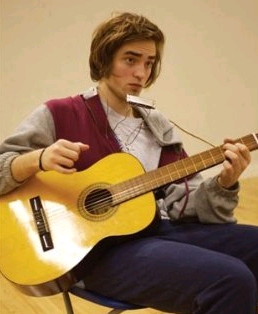 United States
October 5, 2009 3:52pm CST
Seriously? Am i the only one who thinks that Robert Pattinson is uglier than sin??? i mean, when i think of Edward i think of the dude from vampire diaries, even tho he's like 30 years old. He doesn't look like as much of a lost puppy as Robert does.
4 responses

• United States
25 Nov 09
My mom thinks he's really ugly, too. She thinks Taylor Lautner/Jacob and Peter Facinalli/Carlisle are a lot better looking. But have the hugest crush on Rob. I think he is not the "usual" hot that a lot of actors are, but I find his unique look really really attractive. w

• United States
4 Dec 09
I agree 100%! Rob isn't "typical", that's why I love him.

I am so glad I'm not alone here. What you said, spot on, as far as what I think about him.

I also like Carlisle, Jasper, and long-haired Jacob.


• United States
4 Dec 09
I think he's really cute. Even in that picture he's kinda cute. He may not be a Brad Pitt type that every woman seems to love. But personally, I don't see the hype in guys like Brad Pitt..

Everyone has different taste obviously, but I really do think he's hot, like a lot of other Twilight fans. That being said I also think that Peter Facinelli(Carlisle) and Jackson Rathbone(Jasper) are pretty hot too. Taylor Lautner is ok, I liked him best as long-haired Jacob, without the hair he just seems a little too typical hollywood guy. I think that's Rob's appeal for me, he is hollywood, but has a touch of musician/rebel in him--and that I think is why a lot of girls like him. Honestly, I didn't even know who Robert Pattinson was before July, when I saw Twilight for the first time. I don't really think it's fair that you choose a picture that it probably old, because people do change, some people grow into their looks, and also, random pictures can make anyone look bad. So my response to you is this, you have an opinion, that's great, but it doesn't change what many many other people think. I am guessing what you consider "attractive" is the typical hollywood "stud", in that case, I see why you would think he is "ugly", because he isn't a buffed and polished plastic actor.

I do also like Stefan from Vampire Diaries, but I couldn't see him as Edward.


• United States
18 Jan 10
my idea of a hot actor, Gerard Butler in Dear Frankie (not 300, that was just too weird with all the air brushed ab's) or Clive Owens in Inside Man. So no, I don't think Brad Pitt is sexy, he looks like a chimp. But there are some girls who think he's hot. I just find it funny that when Rob was Cedric in Harry Potter no body cared, but he's Edward and because you've all read the books and can finally put a face to what you've fantasized, your going nuts - but he's not as hot as all that and definatly not the musician rebel. BTW the pic is from a new movie he's working on, so hopefully we will see a wider acting range beyond the bad boy image Hollywood has given him to dupe young girls. And Stefan was better as a bad a
@
@
wolf! Not the Emo vampire he is now.

• Romania
5 Oct 09
I tottaly agree with you. It may be among the main characters of Twilight and I must admit that in the movie he plays really professional and the role suits him like a glove but that does not make him .. I don't know .. handsome. Great job, ugly face - that's Robert Pattison.

• United States
7 Oct 09
yepp ;] that's like an actual picture. no photoshopp or anything. and like i was Wowed by it. because these little girls weren't totally throwing themselves at him b4 he was sedrick digory for harry potter and just from then on he's been this godly figure and he's obviously not!