do you know about this Simbol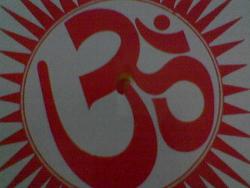 India
November 14, 2006 7:00am CST
Do you have any idea about this simbole
8 responses


• India
14 Nov 06
ya its OM ye om hai ise hamare sanskriti me bada mahatv hai in OM there there is a big power. when we say OMMMMMMMMMMMMMMMMMMMMMMMMMMM at that time we feel very ...................tat i cant say bcoz there no perefect word for it but i tat time i feel very good! wat u say

• Philippines
14 Nov 06
Hehe.. I think its #35 in the symbol. Maybe it's Holy for some other religions.

• India
14 Nov 06
no its A holy symbol for us Acutally it is written Om in sanskrit language



• India
14 Nov 06
you are rigt i will give you one "+" for this

• India
14 Nov 06
This symbol is mean by OM. Am i right?

• India
14 Nov 06
YES you are right it is written om in sanskrit

• India
20 Aug 09
I was looking for someone who would have said this apart from the fact that it is a Sanskrit representation of "OM" or "AUM". Actually, in the Devanagari Script-the Script in whcih Sanskrit and three other languages of the sub-continent are written in - Om could be written by writing the letter O followed by the letter M with a what is called as the "halant" which means the vowel is 'a" in Ma detached. This symbol for OM then is a "pictorial" representation of Ganesha the Lord of Obstacles to Prosperity and Success who is propitaited at the start of every religious ritual in Sanatana Dharma. The lower paert is His tummy the upper represents His face. The curved line from the center His Trunk. The so called "chandra-bindi" are the Crescent Moon that adorns His Head and the star the Pole Star.