Do you sometimes forget to carry the keys along with you after locking the door?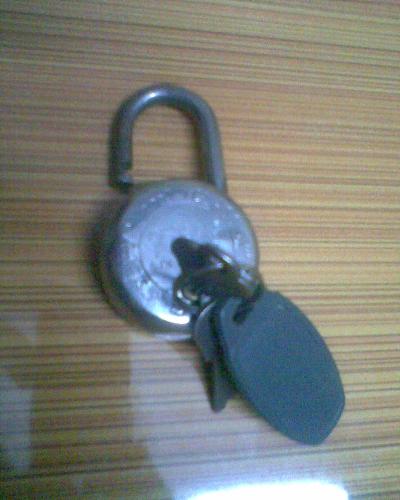 India
October 14, 2009 9:23am CST
It happened with me some 3 or 4 times that after locking the door I left the keys in the lock and left for my work.After reaching my workplace I found out that I forgot the keys.As my workplace is not very far I just come back and collect my keys again.Does that happens with many people?What are the risks if that happens everytime?
6 responses

• China
14 Oct 09
It would be a terrible disaster if it happened on me. Fortunately, I never did it and avoid to suffer from a property loss. I suggest you think it twice before you leave your home. Or maybe one day you will regret. The famous saying goes that a stitch in time saves nine. Right?

• Philippines
14 Oct 09
hahaha...i can relate to that. i sometimes forget my keys inside my house, this happens if i have so many things in mind or not securing my things in my bag the evening before i go to work. Luckily, i can borrow the master key to our landlady or else i will have to wait until my hubby gets home and stay outside until he opens the door.

• India
15 Oct 09
Yes,many people forget there keys just inside the house.May be that means those people forget to lock there house or they use auto lock and later remembers that the key is inside the house.Still you have got options to get the key or wait for your hubby.Thanks for the response.Happy myLotting.

• Malaysia
14 Oct 09
I did that sometimes. It's annoying to be lock out outside. Luckily, since this is our own house, we find a way to break in without bringing down the door or crushing any window. But we only left the keys inside, not at any other place. Usually if we go out for anything, we'll leave the key in the car.

• India
15 Oct 09
I really liked that, "to be lock out outside".When the key is left inside and we are locked out outside then no other options are left to get in.We will have to break the lock."Oh! no..I lost my keys",usually it happens sometimes with me.Then the only option for me is to break the lock to go inside.


• United States
14 Oct 09
It's impossible for me to do that seeing how my apartment keys are on the same key ring as my car keys...I do that for a reason, because I bet I would do the same thing as you especially if I am in a rush to get to work.

• Australia
15 Oct 09
It used to happen to me on a regular basis. It got to the point that my husband had to break some roof tiles and get in the house through the roof which ended up being expensive because of the tiles and the ceiling which had to be fixed. When we moved to our new house it had a tin roof so if I locked my keys in the house and all the windows were closed we had no hope of getting in so we hid our keys outside; they are not under the mat, a rock or a plant, nothing so obvious; we found a really good hiding place and that has saved the day on a few occasions!