ABU SAYAF, stubborn bandits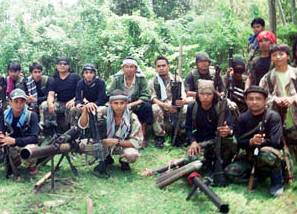 Canada
October 23, 2009 10:39pm CST
why our government, particularly our armed force, can not exterminate this stubborn bandits, what are they fighting for? if i were lider of this nation, knowing one my hand lapses of my armed forces, i would ask the support of superpower friend(US) to exterminate this stubborn bandits once in for all..so what would do if your lider of this nation to exterminate this stubborn bandits....negotation is not option..
2 responses

• Indonesia
25 Oct 09
Because those BANDITS are your superpower FRIENDS unknowing PETS! It is known that USA wish that South East Asia, a resource rich region, to be not in a long stable condition so that they can always offer their hands (which always come with dire conditions) anytime. Malaysian terrorists wrecking havocs in Indonesia is one of their PETS too! Wake up! Your "FRIENDS" are nothing more than your sweet-talking SLAVERS who wish to put snakes on your homes all the times!

• Philippines
24 Oct 09

hello Bart, Well

, the main problem is our technology. even though we have the skills and expertise in the terrain, how can we possible defeat them with out technology and advanced armored vehicles and surveillance.well, i don't know, probably increase military intelligence and high reward for these merciless bandits. they only want power and control, they have no sense of mercy to the innocent.