Got Cake?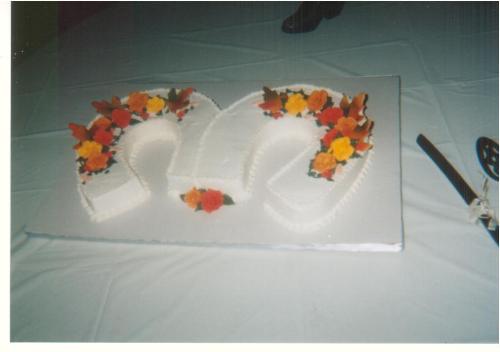 United States
October 28, 2009 10:11pm CST
Here is our wedding cake in which we could say we are western fans and race car fans, if you turn it to the side, it's a 3, which is Dale's Number. Here is the cake, it was delicious. The Cake lady's daughter had put a leaf that was broken on the cake, but she fixed it (the cake lady) and you can't tell. So what do you think of the cake?
3 responses

• United States
29 Oct 09
Its an awesome looking cake and it was very delicious and you forgot to mention that we froze what was left of the cake for our first anniversary,and I like the fact that it is western and also sort of a tribute to the late Dale Earnheart and I think if we need anymore cakes we will probably go to our neighborhood cake lady lol,I love you.

• United States
29 Oct 09
Yes I did forget to mention about freezing the cake, but actually I left it out to give you something to talk about! Yes, we'll most likely be going to our neighborhood cake lady for any big cakes! I also should have put Dale Earnhardt, but didn't, so thank youf ro saying that.

• United States
31 Oct 09
Very interesting looking cake my friend. This is a Cool idea for sure, and the person who made it for you did an awesome job on it. And what a Cool theme for your cake. I am sure the cake was good as well, and dale was a Good driver for sure.

• United States
1 Nov 09
We weren't really aware it looked like a three until mom in law pointed it out to us in pictures. Yes, she did an awesome job, she used to work at a local bakery. My husband and I aren't fans of his son, but though I didn't watch the race much, I think he was one of my favorites.

• United States
31 Oct 09
Its very pretty! We had the traditional 3 tier cake ... wish I had done some thing unique like yours!

• United States
31 Oct 09
Three tier just didn't seem to fit with our theme at all. I think if we had three tier we'd also have had a lot of cake left over. It all depends on the guests as the size of the cake, I think. Three Tier cakes are beautiful though. I love the little cake bride and groom on them!