A Treasure To Wear.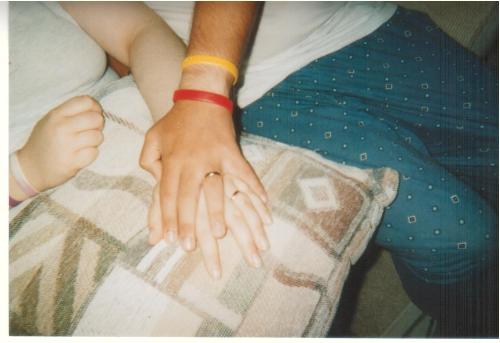 United States
October 29, 2009 2:36pm CST
Me and my wife have been uploading photos and doing discussions on them for all the mylotters out there who said they wanted to see photos,so I decided I would do a discussion about our rings,we had originally bought rings that were on sale and were going to use those when my Grandmother suggested we used my Great Grandmother and Great Grandfathers rings instead,it was a really nice thought,and me and my wife loved it and we used those rings,and I am wearing the ring of a man,who I never got to meet because he died before I was born,but my Great Grandmother is still alive,and she is ninety five and I feel like I have a piece of Paul now,and I hope he is up there smiling because his ring is being put to good use,and is being passed down,I uploaded the photo so please tell me what you think about our rings,and how we got them,and also share any interesting stories about rings that you know,but please try to be serious,and do not post any nonsense or anything like that since the rings mean a lot to us and our family,and I will comment on every response I get,Happy Mylotting.
2 responses


• United States
29 Oct 09
That is very romantic,and I am glad yall have unique wedding rings,and I hope you continue to enjoy them for years to come,thanks for responding.

• United States
29 Oct 09
I am wearing granny's ring which makes me so happy to wear. I know that we were both taken aback when the rings were offered and we were happy that it was offered, and glad to be wearing the rings. Though we aren't supposed to tell granny. Your uncle knows about them though, so atleast one person other then us, your parents and grandparents know. I think that though I never met Paul he was a great man from what I've heard, and that he would be very happy to know that your wearing his ring, and I am sure he is smiling down at us.

• United States
29 Oct 09
I wish we could tell Granny even though we do not know how she would take it because it feels like we are hiding something special from her and I do not like it,thanks for responding,I love you.