does online chatting has anything to do with the search of soulmate??????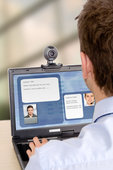 India
November 4, 2009 9:11pm CST
i chat online regularly...while chatting i find people searching for soulmates in the chat rooms.so i decided to put this matter infront of you guyz and know wat u think about it.the person at the other end may not be the true identity of that person that he has shown. i believe that one should trust his instincts.for many internet users chat rooms are nothing but a source of entertainment which has nothing to do with searching a soulmate.people with communication problems or inferiority complex often visit chat rooms.the harm in this is that people loose their ability to notice real people around them in the real world,and think about their virtual friends.chatting,how i realize is just time consuming,rather i feel one should not get carried away by it and try to move out in the real world and find someone real to be friends with. .... what are your views for this topic..??
1 response

• China
5 Nov 09
Cann't be too dependent on others. Even though I know a friend in the real world there will betray you to happen, let alone in the network knowledge of the virtual world do? We have to keep a wary people. If it's on the network know a friend, or their ralationship to maintain the network bar, This would be your best way to handle both.