Do you have Collectibles?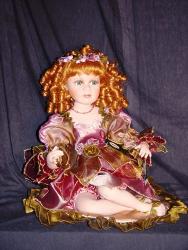 United States
November 14, 2006 1:28pm CST
I look around my house and think where did all this stuff come from? Then I realized I've been collecting for over 39 years. I have a collection of Porcelain Dolls. I have dolls from Geppeddos, dolls from Japan, Germany, Italy, and many other countries I've traveled to. Probably 200 through out the house and in boxes. I have a collection of Snow Globes of all sizes. What kinds of things do you collect? Is this a hobby or do they just accumulate? Are your collectibles valuable? Did you start the collection or did someone start it for you?
5 responses

• United States
18 Jan 07
I started collecting porcelain dolls because my family started giving them to me when I was a baby. I have moved quite a bit so most of my dolls stay at my parents house. I do have a few at my house. They may never amount to much money but they are beautiful to look at.

• United States
31 May 07
I agree that collectibles may have more sentimental value than any price could be put on these items. My children like to think that they are mommies untouchables and they love to just sit and talk to them. I have a few that my mother and I made together that my two year old has adopted as his own he loves to sit around holding it and talking to it, I love thinking that I can one day pass my collectibles down to my children as well.

• United States
14 Nov 06
I don't collect things on purpose they just seem to accumulate! I guess I have an angel collection but I finally had to tell people to stop bringing them to me because I was out of room. You could have one heck of an auction on ebay if you ever decide to part with your collections!

• United States
26 Jan 07
Yes space does become an issue. After a while it starts to look like junk to some people. I probably should sell off some of them but they all have a special meaning to me and I can't seem to part with any of them. Maybe one day I will pass them to my daughters. Thank you for the response.



• United States
26 Jan 07
How do you keep them all clean? What kind of cars? Does he put them together himself? Thanks for the response.

• Australia
14 Nov 06
I must remember when my husband starts talking "decluttering" that my stuff is collectibles, not clutter