My hands become completely rough and cracked if i use detergents for household..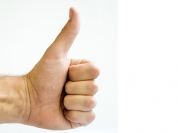 India
November 11, 2009 12:18am CST
Is there any remedy for this my hands become completely rough and cracked when I use detergents....washing or cleaning...I tried using moisturizers also but no result..If you can help me..thank u...
6 responses

•
14 Jan 10
Using natural products not only helps your skin but the environment too and the correct mixtures can receive the same results as other branded cleaning products, worth a try anyway to protect your body

•
11 Nov 09
I think that's normally what happened when we use detergents. It just makes the skin dry. What I do is to apply lotion after washing or cleaning or using the detergent. Somehow, the lotion helps, especially when the lotion has extra moisturizer in it.

• Canada
11 Nov 09
The best way is to use rubber gloves. If you are sensitive to the detergents that of course your best bet is to put up a barrier in the form of gloves. If you have to use gloves a lot you might look for vinyl gloves to avoid developing a latex sensitivity. It is almost easier to avoid the problem in the first place by wearing gloves than try to repair the problem after the damage is done. Another solution is to hire a full-time maid.


• Puerto Rico
11 Nov 09
Have you tried to change your detergents. I have developed dry skin after moving to New Mexico and I have tried different moisturizers and nothing helped at all. Then two weeks ago I found Dove Cream Oil its the greatest lotion. It works so good for me and hopefully it will work for you too.

• China
11 Nov 09
Hi, rorisricha, glycerol works well on this issue. And hand cream or vitamin E capsule are also useful. My mom is in the same situation. She told me it's useful. But of course, choose detergent whose formula is tender for skins. For example, I think these products from Amway is better in this aspect. Last, it always spends a period, you don't expect it works immediately. Keep on use these skin care products on your hands, it's also important!

Hope your hands will be better!

• Philippines
11 Nov 09
I really get worried when my hands start to become rough. I do a lot of cleaning and washing too. To prevent my hands from getting too rough, I have a hand cream which I apply after I wash my hands. Also, every now and then, I put on a generous amount of lotion on my hands and cover them with gloves. I leave covered as long as I can or overnight. Have a nice day!