What is your favourite Company that makes vehicles?


Canada
November 14, 2006 1:51pm CST
10 responses



• United States
14 Nov 06

• Canada
14 Nov 06
Really...have u seen the new SILVERADO?? WOW!! I like the design but Chevy's have the tendency of rusting after 3 years. Fords don't rust because I have a 1992 Ford Ranger and it never rusted and it still has it original paint job on it. I drive it in snow and slush in the winter. My 2000 ford F-150 has over 130,000 kms on it and still works like new.


• United States
14 Nov 06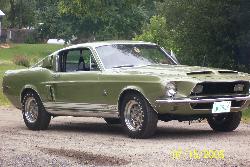 I would also have to go with Ford... as we have 4 that we drive. No- this isn't 1 of them .. although hubby would love it to be!