Half-dead neobux account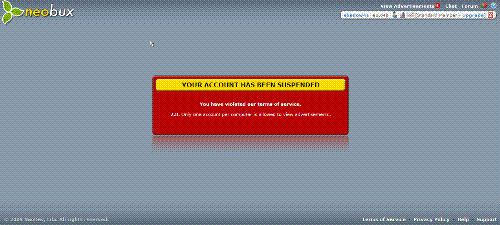 Philippines
November 12, 2009 12:18am CST
Good day fellow myLotters. I've been through a rough time this past few days. I had my neobux account suspended. I did not try to cheat. I was just unfortunate. My desktop computer stopped working that's why I decided to use my laptop to access my neobux account. I forgot that my girlfriend also used my laptop to register to neobux. But I thought it's okay because we're using different Ip addresses. Plus she's not active. Still I got suspended. I browse their forum and found out a user with the same case with mine. He/she got his/her account back. Now I need some help from a kind hearted neobux member who is willing to post my message in the forum. Again, I need help from a member who will post my created message in the neobux forum. Please help me with this one. I don't want to start from scratch again in neobux. I have referrals in there already.
6 responses


• Philippines
13 Nov 09
Wow you sent 7 tickets? Hehe. Thank you so much. Words can't express my gratitude for what you did. Maybe admin has been busy and have not taken a look at the tickets you sent yet. Or maybe he don't want to give my account back. One thing is clear. I'm still suspended. Haha. But again, thank you so much.

shadow41

• United States
15 Nov 09
OH I think I am revisiting here and we had news already right? How is all working out?

• Canada
12 Nov 09
You can pres support on the bottom right and state your case against admin :)

• Nigeria
12 Nov 09
Hello friend, i can help just send me the necessary thing(s) you thing i may need.


• Philippines
12 Nov 09
Can I ask you a favor? I can't post in their forum because I'm suspended. Can you post my message to their forum? I will send you the message I created if you will do this very important favor I'm asking. I really like to have my account back. shadow41

• India
12 Nov 09
dude that really unfortunate. you need to be careful, sites which pay people can be kinda strict. Anyways whats done is done. I am willing to help you. Post me the relevant details and hope that you get back your account buddy.